Staff Stories: Mason Library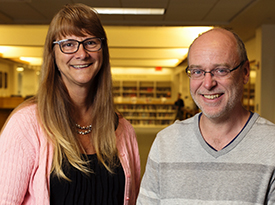 Ever wonder how that obscure book from Denmark found its way to Keene State's Mason Library or who's responsible for providing all the technical support that allows you to find that specific publication or print that article for your research paper? Chances are Robin Riley and Dana Clark '98 had something to do with it.
Riley and Clark are two of 19 faculty and staff members who help Mason Library fulfill its mission of meeting the diverse academic needs of the Keene State community and supporting the College's mission of academic excellence by providing information literacy instruction and resources to facilitate learning.
"Robin and Dana are staff members who really embody the values of Mason Library as well as Keene State College," said Celia Rabinowitz, the dean of Mason Library. "They are both dedicated to helping our students, faculty, and staff experience the library as a place for investigation, discovery, and learning."
Riley, a Keene native who works at the library's circulation desk, came to Keene State after spending many years working at a video store. "They thought it would be the perfect job for me," she said. "Instead of renting things out, I'm loaning things out."
Riley became a full-time staff member in 2009. Currently serving as the library services supervisor, Riley handles the interlibrary loan and course reserves programs and supervises students on the circulation and information desks.
One of those students was Matt McDougall '15 from Keene. "Robin was one of the first people to really reach out to me," said the theatre and dance major, now living in Chicago. "The more I got to know her, the more evident it became that she is easily one of the hardest working and most generous people in that building if not on campus."
McDougal isn't the only one to sing Riley's praises. Clark recently bestowed the Golden Owl staff recognition award on Riley, a colleague he described as being "hard working and devoted to providing our library services in the best manner possible."
Like Riley, Clark, who earned double degrees from Keene State, has become an integral part of the Mason Library team. Starting out in a clerical position, the Lebanon, New Hampshire, native has become the Mr. Fixit of Mason Library, monitoring and providing technical and maintenance support so library patrons have access to the electronic resources they need.
Clark and Riley enjoy their jobs and the opportunity to meet so many people who walk through the door at Mason Library. It's only fitting that one week after getting the Golden Owl staff-recognition award, Riley passed it on to another worthy recipient: Mike Gomez, a member of the Campus Safety Office. "I used to work the late-shift and Mike would always come around," said Riley. "He was a big help and always concerned about the safety of the students."
Related Stories