Alternative Spring Break Trip Leads to Job for Snyder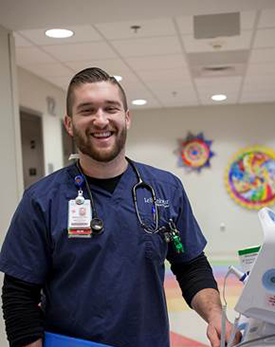 Brendan Snyder would be the first to exalt the benefits of an Alternative Spring Break trip. The recent Keene State grad and nursing major from Saratoga Springs, NY, not only had a memorable experience and learned valuable skills during his trip to Le Bonheur Children's Hospital in Memphis last year, but it also helped land him a job.
"It definitely gave me an edge over other people who were applying," said Snyder. "I had the opportunity to work in the hospital and see what they do and how they developed a passion for it."
Snyder said he started to strongly consider a job at the hospital shortly after he returned from the trip last March. "After processing the trip, I figured out it definitely was the place for me," he said.
"It was a great moment," he said. "It was nice to know I had landed my dream job out of school and the plans I had for myself were actually going to happen."
After debating between education and nursing careers, Snyder decided on the latter just before arriving at Keene State. "I was interested in the continuous evolving that goes on in the medical field and also the passion nurses have for trying to make their patients better," he said.
There was another factor that entered in his decision. At the age of 11, Snyder was diagnosed with Type I diabetes. He describes the early days of having the disease as a confusing and challenging experience. "It became easier as I figured out my body and how I reacted to it."
Snyder didn't let the disease slow him down. A member of the third Keene State nursing class to graduate, Snyder said the combination of his nursing and liberal arts courses prepared him well for a career in nursing.
Snyder, who kept up his stamina serving as president and captain of the Keene State Rugby Club and vice-president of the school's barbell club, jumped at the opportunity to take the Alternative Spring Break trip to Le Bonheur Children's Hospital. "I couldn't have picked a better trip," he said. "It was just what I needed at that point."
"My perspective was a little bit different than most on the trip because they were there to volunteer, and I was there to do some research and see if it was a place I wanted to work," Snyder added.
After his trip, Snyder (whose clinical sites included Cheshire Medical Center, Monadnock Community Hospital, and the Brattleboro Retreat) returned to Keene State, spending his final semester doing a preceptor nursing shift at Cedarcrest Center for Children with Disabilities in Keene.
Now, Snyder's working as a registered nurse on a medical surgical floor at Le Bonheur and couldn't be any happier with his career choice. "It has probably been more rewarding than I expected," he said. "It's all come together exactly how I pictured it."
For another look at Snyder and his work, see this video by Memphis's Choose 901.
Related Stories