José Lezcano and Scott Mullett to Receive 2016 Ruth and James Ewing Awards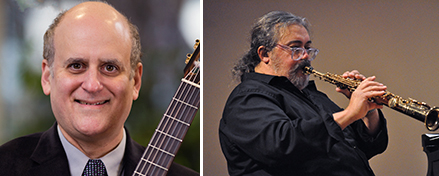 The Keene Sentinel has named Keene State Professor of Music José Lezcano and Music Lecturer Scott Mullet recipients of 2016 Ruth and James Ewing awards, which recognize excellence in the arts in the Monadnock Region. In his congratulatory letter, Keene Sentinel President and COO Terrence Williams wrote, "Please accept my deep appreciation for the work you do and how that work influences our arts community."  
"I'm pleased and grateful for this award, and to help represent Keene State College and the work we do," Prof. Lezcano said.
"My gratitude is to our community for considering me for such an honor," said Mullet.
Both musicians will perform at the awards ceremony and performance program that will be held on Thursday, July 21, 5:30 p.m. at the Redfern Arts Center at Keene State College. The evening will feature a video of all the winners, a magazine that will include their profile stories, and presentations of awards.
Those wishing to attend the awards ceremony can reserve tickets by calling Janice at the Sentinel at 603-352-1234 ext. 1004.
Related Stories