Katie Conlon '14 Lobbies for Successful Passage of Electrify Africa Act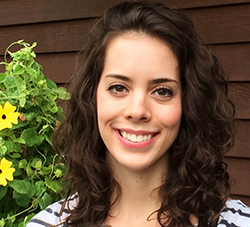 Recently, the US Congress passed and President Obama signed the Electrify Africa Act into law. The legislation will supply reliable electricity to the people of Sub-Saharan Africa. And a recent Keene State grad, political science major Katie Conlon '14, was instrumental in lobbying for the act.
As a political affairs intern for the Borgen Project (national campaign that works with U.S. leaders to improve their response to the global poverty crisis), Conlon focused her efforts on getting the Electrify Africa Act passed. "I sent countless emails and made many phone calls to my three representatives (Senator Bernie Sanders, Senator Patrick Leahy, and Representative Peter Welch) as well as meeting with aides in each of their offices and presenting the bill with the hopes of them signing on," the Essex Junction, Vermont, native reported. "It was a lot of work, and I feel like I learned more from this internship than maybe half of my years at KSC, just because it was so hands on and 'in the trenches.'" 
Nearly 70% of the people living in sub-Saharan Africa do not have access to reliable electricity. "This means many things—children can't study or read past dark; babies can't be vaccinated, because there aren't refrigerators to keep the vaccines cold; homes are being lit and heated with dangerous materials, producing often deadly toxic fumes; shops can't stay open or run, so the economy fails … the list goes on and on," Conlon explained.
The Act will bring access to reliable electricity to nearly 50 million people by the year 2020. "This is literally life-saving legislation, and while I feel that my role was very, very, very small in its success, it's nice to know that I was a part of something so much bigger than myself—something that will make an incredible impact on so many millions of lives," Conlon said. "And I think that's an important lesson for all of us; the crisis of global poverty can feel very overwhelming and daunting, but there is a lot that you and I can do as citizens to make a difference. Something as simple as calling your representatives, writing a letter, and just paying attention and getting involved and passionate about issues can truly make a difference."
Related Stories