2016 Graduate Allison Mensh Receives Jenkins Scholarship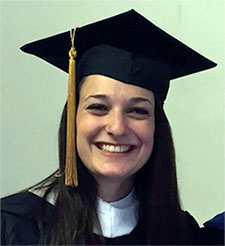 Allison Mensh, 2016 Keene State College graduate from Amherst, NH, was awarded the Jenkins Scholarship for her commitment to excellence, and for taking action to determine her academic future, with integrity guiding her way. Allison majored in management and economics, with a minor in statistics. She plans to pursue a career in market research for pharmaceutical companies.
Allison, a student who transferred to Keene State from Brandeis University, said, "As I reflect on my past three and a half years, I am proud that I was able to learn from my mistakes and use my experiences to my advantage. Had I not transferred, had I not done something, I would have never realized what I was truly capable of at my young age. Keene State College has shown me that I live in a community of thinkers. I have had the pleasure of meeting and befriending all types of people who have collectively taught me something a little different about life. I am excited for what my future has in store and also feel prepared for the times when adversity may stand in the way of my goals."
The Jenkins Scholarship is awarded by the Management Department to one student each academic year. It began in honor of the late Dr. Peter Jenkins, a professor of psychology, and president of the Keene State chapter of the American Association of University Professors. Dr. Jenkins founded and chaired the Psychology Department and Management Department. Dr. Jenkins was well known for his philosophy: "Do something, even if it's wrong." He argued that it is often easier to fix something than to attempt to act after an opportunity has passed. The scholarship recipient is chosen based on a combination of financial need, plans for graduate school and commitment to excellence, integrity, concern for humanity, and the "do something" philosophy.
More about the scholarship can be found here: http://sites.keene.edu/management/academics/awards/
Related Stories