Keene State Environmental Studies Students Help Local Conservation Efforts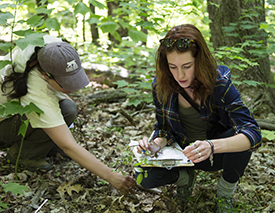 Four Keene State College students from the Environmental Studies Department are spending their summer helping the Harris Center for Conservation Education's efforts in maintaining their 22,000 acres of conservation land in New Hampshire. Seniors Shauna Sousa, Victoria Drake, Rob Lanfranchi, and Dorothy Arroyo '16 are spending seven weeks exploring the back woods of New Hampshire, working on a number of conservation efforts as part of a partnership between the Environmental Studies Department and the Harris Center.
"Many of the students who come through this program have never done field work. They're learning how to collect data in the field and learning how to manage that data so that it can be used in the future by other people," said science director for the Harris Center, Brett Thelen. "They come away with a variety of skills from species identification to field techniques."
This is the fourth year of the partnership between Keene State and the Harris Center. Each year four students and one faculty supervisor from the Environmental Studies Department spend their summers gathering data and performing manual labor in order to help better understand the ecology of southern New Hampshire.
The benefits of spending the summer interning instead of relaxing are clear for these four students. The internship, while paid, offers more than monetary dividends to the students and allows the Harris Center to expand its operations for nearly two months in the summer.
"I'm going into my senior year in environmental studies and I really wanted to get an internship under my belt," said Rob Lanfranchi, of Brooklyn, New York. "We've been trained in a number areas of field research. Instead of focusing on one thing, I've had a plethora of experiences and it's great because I can pick and choose what I will or won't want to do in the future."
Shauna Sousa, of Amherst, New Hampshire, had a similar perspective. "It's important to me to explore different career opportunities and options. This experience is a good example of how I can put my degree to use. It's good to get out and explore being a survey team or being part of a forestry team," she said.
"I'm building on my abilities to identify species. I had a basic knowledge with trees and rocks before, and now I'm learning so many things, because of being in the field with other students like Rob who took an ornithology class – the experience adds to what I know," said Drake.
Related Stories