Honors Students Get First-Hand Lessons from Poland and Romania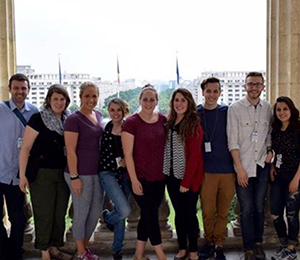 OK, you can study foreign lands and culture in class, but how much are you really going to know about what it's like there? Well, if you're a student in Assistant Professor of Sociology Dr. Carolyn Keller's Honors Global Engagement course (part of the Morris-August Honors Program) on stratification in Poland and Romania, you hop on a plane and visit those countries to see first hand what life is like there.
"We discussed stratification (or layers in society based on four dimensions: social class, gender, ethnicity, and religion) before, during, and after communism," Dr. Keller explained. "The goal of the course was to have students think critically about the transition to democracy and a market economy and think about the benefits and limitations of the transition."
And the class and trip seems to have done just what Dr. Keller intended. "I think the most important aspect of the trip for me was learning about the rich histories of both countries and then actually stepping foot in the places where events such as the Warsaw Uprising took place," said Tyler Croteau, a history and political science major from Derry, New Hampshire. "Not only this, but this was my first time traveling on a plane and outside the United States. I had some preconceived notions of what both countries would be like, but I don't think anyone can really know about a place until they step foot in it and interact with the people there."
The experience helped shape Croteau's future: "I had always wanted to do Peace Corp or Americorp work once I was done my four years, but was too worried that my non-existent travel experience would make this difficult. I now can see myself traveling in the future frequently and doing work for these organizations," he said.
Most students who travel abroad are surprised at how the experience expands their horizons and sparks the desire to travel. "Our trip to Poland and Romania opened my eyes to the larger world outside of the United States. It was my first trip oversees and all I want to do is go back now," said journalism major and Concord, New Hampshire, native Emma Hamilton. "We visited several monuments and museums and explored cities through walking tours, including Bucharest, Cluj, Warsaw, and Kraków. I struggled emotionally when we visited Auschwitz and I realized that we were standing where so many lost their innocent lives. I have even more respect now for the victims and their families who suffered from the Holocaust."
The purpose of the trip also hit home with Hamilton, who loved the culture, the people, and the food. "We learned in class about the sociological aspect of the two countries. Through interacting with people there and observing their behaviors I was able to experience the things I learned in class through real life while traveling," she said. "The trip made me want to experience other countries, people, and cultures. In my career as a journalist, I may want to now travel to other countries to cover world events."
Related Stories