Summer Bird Watching: Keene State Collaborates in Project Nighthawk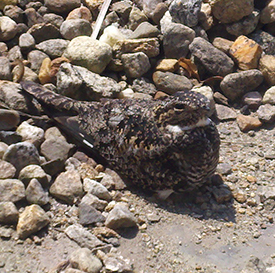 If you see groups of people in Keene peering up at the sky around dusk over the next few months, don't be alarmed. They are taking part in Project Nighthawk, a collaborative effort that includes Keene State students, faculty, staff, and alumni along with Antioch students and community members. Serving as citizen scientists, they are hoping to get a glimpse of the elusive nighthawk, a robin-size bird that is considered a threatened or endangered species in most of New England.
Started in 2007 by New Hampshire Audubon, Project Nighthawk attempts to monitor the bird as well as determine reasons for their declining numbers. Involved with the program since its inception, Brett Thelen, the Science Director at the Harris Center for Conservation Education, recently held a volunteer training session for Project Nighthawk before dispersing the eager and enthusiastic citizen scientists to designated viewing areas around the city.
Some of the volunteers like Dorothy Arroyo, a junior environmental studies major from Milford, New Hampshire, are Keene State students who are interning at the Harris Center this summer. "I recently declared my major, so this is going to be my first real field experience," she said. "I'm really excited."
Keene State staff member Kathleen Maceda and her son Charles, a 2009 Keene State grad, were also looking forward to observing the nighthawks, who arrive in late May and leave in August. "I actually saw a nighthawk zooming between two buildings, so I think there's a nest around campus," said Kathleen.
After learning about the nighthawk, including its visual characteristics, vocalizations, and flight behavior, the citizen scientists ventured out and congregated around the Media Arts Center, where they were treated to an exciting display of nighthawks' erratic diving and delivering a distinct peenting and booming sound – an indication, if observed on multiple occasions, that a nest could be in the area. Nighthawks, which now only nest in four New Hampshire cities, including Keene, tend to place their highly camouflaged eggs on flat peastone gravel roofs.
Thelen, who has been joined by other nighthawk watchers on subsequent nights, thought the behavior of the birds was very consistent with that of nighthawks who are incubating eggs. But she hasn't been able to confirm the presence of eggs just yet. However, Thelen is still optimistic that Keene State could be the site of a nest this summer. "If the nest is successful, this would be pretty big news," she said.
Related Stories