Keene State Vocalists Sing in St. Andrews Spring Festival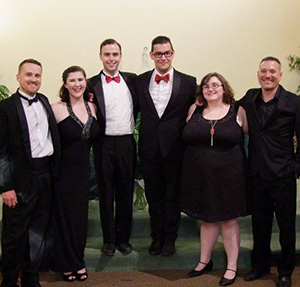 Four Keene State student vocal soloists recently traveled with Drs. Daniel Carberg and Matthew Leese to perform in the Mozart Requiem at the St. Andrews Spring Sing music festival n St. Andrews, New Brunswick (Canada). Drs. Carberg and Leese have a long-standing relationship with the St. Andrews Arts Council, where they had co-directed full baroque operas and oratorios for several years at the popular seaside resort, and they hope this festival participation will be the first of many. The student vocalists were Amy Lesieur, Katrina Feraco, Matthew McGinnis, and Ian O'Brien.
"Musically, I gained so much from this," McGinnis explained. "This was only my second time as a soloist in a mass, but this time I learned the music mostly independently with the occasional check in from Dr. Leese. This gave me so much responsibility to make the performance great. Working with a quartet of my peers was an incredibly bonding experience. I'm really thankful for this opportunity, because it is something I can share with my own students in the future and maybe even recreate it when I'm a teacher with my own students. That was one music and adventure-filled weekend I'll never forget!"
"As a music student, it was an amazing preview as to what could be when it comes to being a soloist in other productions like Mozart's Requiem," O'Brien said.
"Dr. Leese and I were extremely proud of our students, for their professionalism in showcasing their vocal talents and for their outstanding representation as Keene State ambassadors," Dr. Carberg said.
Related Stories