Keene State College Completes Inaugural Construction Safety Bootcamp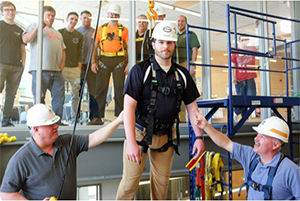 Sixty-four safety professionals interested in learning new skills and updating their knowledge of critical OSHA regulations, as well as 20 college students majoring in safety and occupational health applied sciences who want an advantage with internships and employment, attended seven consecutive, all day construction safety programs at Keene State. The month-long program was offered in coordination with Keene State's Region 1 OSHA Training Institute Education Center. Professionals from 16 New England businesses, including Children's Hospital of Boston and MassBay Electric, were in attendance.
Falls, electrocutions, impact from objects, and being caught in or between objects are the four main causes of deaths on construction sites. Eliminating these four main causes of death would save the lives of 508 workers every year, making training and updated knowledge critical in the industry.
Program attendees learned how to interpret and apply OSHA regulations to assure safe operations of cranes, scaffolds, confined spaces, excavation, electrical work, and fall protection. Instructors used Keene State's Technology, Design, and Safety Center's "Safety Tower" to provide participants with hands-on fall protection.
Students had the opportunity to earn up to 16 credits applicable toward their Safety and Occupational Health Applied Sciences degree by completing additional assignments.
"The Safety Bootcamp originated from the construction industry partners and surpassed registration expectations," said Dr. Larry McDonald, Keene State College professor and department chair of Safety and Occupational Health Applied Sciences. "The feedback we received at the end of the course period was remarkable. Professionals and students alike are leaving this experience more prepared and in a better position to protect themselves and their fellow workers."
The program will be offered again next summer. Keene State hosted a celebration to close the program for the year, on June 10.
Related Stories