Thorne-Sagendorph Art Gallery Announces Summer Show and Events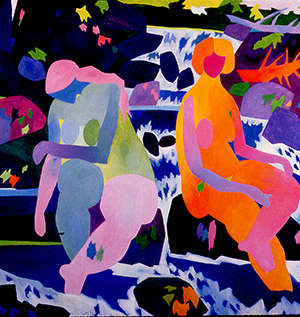 Keene State College's Thorne-Sagendorph Art Gallery's summer exhibition, "Summer Job: Learning with the Permanent Collection," will include painting, photography, and works on paper from the Monadnock region and far beyond that are part of the Gallery's permanent collection. Featured artists include: Milton Avery, Gifford Beal, Romare Bearden, Rockwell Kent, Alice Neel, Gregorio Prestopino, and Andy Warhol. The show and the related events are designed to invite reflection, discovery, and commentary about this collection and about the summer season.
Schedule of Gallery summer events:
The "Summer Job" exhibition starts on June 17 and remains on view until July 24, 2016. A public opening reception with Jim Butler, musician, will be held Thursday, June 16 from 5:30–7:30 p.m.
Wading pool party and gallery tour focused on water imagery will beheld on June 22 from 1–3 p.m. Bring a towel.
Tour de France mountain stage live screening and gallery tour focusing on landscape conventions will take place on Bastille Day, Thursday, July 14, 10 a.m.–noon.
"We are thrilled to provide an opportunity for the public to become more familiar with the permanent collection and explore some fundamental art ideas through the collection. The summer-themed show and events make this the perfect time to come to the gallery to enjoy art, have some fun and make new connections in the community," said Keene State College Thorne-Sagendorph Art Gallery Director Brian Wallace.
Related Stories