Conservation Research in the Harris Center SuperSanctuary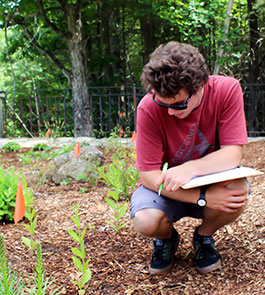 By Brett Amy Thelen, Science Director, Harris Center for Conservation Education, reprinted with permission of the Harris Center.
Last year, a group of students in the Environmental Studies Department at Keene State College focused their two-semester capstone research projects on Harris Center lands. The student researchers conducted bee surveys at our new pollinator garden, assessed road-stream crossings for fish passage and flooding potential, investigated road salt impacts in wetlands along Route 123, and explored current wildlife and historic human use of the Harris Center's newly-conserved Hiroshi Land. Curious about their findings? Read on for brief summaries of each project.
Abundance and Diversity of Native Bee Species in a Newly-Established Pollinator Garden
Will Holden, '16 and Elijah Wyman, '16, surveyed native bee species in the Harris Center's new pollinator garden – and, for comparison, a nearby orchard – in the summer of 2015. They identified 11 different bee species in the pollinator garden, and consistently observed more individual native bees in the pollinator garden than at the orchard site.
Assessment of Culverts in the Ferguson Brook Watershed
Hunter Guidess, '16 and Joseph Martino, '16, surveyed 20 road-stream crossings in the Ferguson Brook watershed in Hancock, to assess where fish and aquatic wildlife passage were most impacted by undersized or deteriorating culverts. The students found that the majority of the culverts in their study were undersized for both fish passage and floodwater. In addition, 15% were completely impassable to fish and other aquatic organisms, and would be good candidates for replacement or retrofitting to restore stream flow, increase flood resilience, and improve habitat connectivity.
Impact of Road Salt on Wetlands Near Route 123
Braeden Cummings, '16 and Dustin Howe, '16, investigated the impacts of road salt on soil and plant health in wetlands adjacent to Route 123 in Hancock and Antrim. They found elevated soil conductivity, a proxy for salinity, at all of their sampling sites. However, plant health – as measured by chlorophyll and sodium levels within the leaves of cattails, grasses, and red maples – did not appear to be affected by proximity to the road or by this elevated conductivity.
Wildlife on the Hiroshi Land
Josh Dallesander, '16 and Elizabeth King, '15, conducted a game camera survey of wildlife at the Harris Center's newly-conserved Hiroshi Land in Peterborough, with a focus on mammals. They documented 15 mammal species at the site, including beaver, bobcat, black bear, coyote, and gray fox. Notably absent from their trail cams: fisher, otter, and moose!
Human History of the Hiroshi Land
Colleen Kracik, '16, used genealogical records and other historical documents to trace the human history of the Hiroshi Land back to 1874, when the land was first cleared and farmed by Nathan Holt. Colleen also discovered that the farmhouse was used as a summer boarding house for tourists at the turn of the century. In 1905, room and board at "Rock Farm" would have cost you $1/night!
Next Steps
This year, under the guidance of Dr. Renate Gebauer, a new team of Keene State College student researchers is picking up where last year's students left off. They plan to continue the culvert, road salt, and pollinator garden surveys, and to embark on two new research projects: one focused on recreational use of the Harris Center's growing trail network, and another looking at the abundance and distribution of fisher (Martes pennant) in the SuperSanctuary. Stay tuned!
Related Stories