Pruchansky Motivates Management Students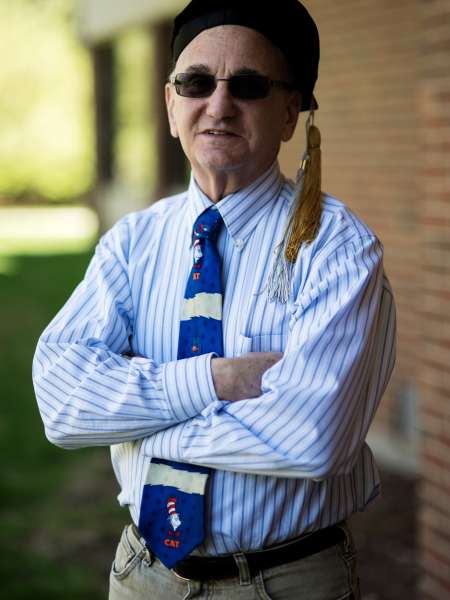 Blake House was running out of room. The building, home to Keene State College's management faculty, couldn't find enough space to house all the trophies and awards won by the College's highly successful Small Business Institute (SBI). "We have trophies everywhere," said longtime management professor Dr. Neal Pruchansky, who is retiring, ending a 31-year teaching career at Keene State. Fortunately, a new trophy case was recently installed to house the hardware.
Pruchansky hopes the success of the program will continue. "I hope whoever takes it over will maintain the tremendous work and accomplishments by our students," he said. "I'm confident that future students will be motivated by our past accomplishments and want to continue the tradition that has made SBI a special program at Keene State."
Pruchansky has established a dynasty that will be hard to duplicate. During his tenure leading the SBI program, Keene State students have finished first in 10 national Program of the Year competitions and placed second or third 18 other times. Proud of the accomplishments, Pruchansky says it's all about the students.
Pruchansky has a knack for bringing out the best in those students. Many, like Shawn Curtis '99, who manages the global partnership between the LEGO Group and Merlin Entertainments, and Kendra Spencer Lewinski '10, an account marketing manager with Puma, have gone on to have their own successful careers. "Dr. Pruchansky had a way to push you," said Spencer Lewinski. "He allowed us to come up with our own ideas and figure out a way for us to get where we needed to go. It's a gift that a lot of teachers don't have and he mastered it during his lifetime of teaching."
Case studies by Keene State students have not only won awards but have helped a long list of local businesses over the years. "It's a win-win situation," he said.
It's only fitting that Pruchansky, who has earned his share of accolades including a 1993 Fulbright, a SBI Fellow Award winner and Distinguished Teacher of the Year recognition, completes his career on top.
In February, Keene State won two first place awards in the SBI Undergraduate Program of the Year competition and two of his current students Amanda Lashua and Alli Mensh, who are competing in SBI for the second time this year, could be the first to win two first-place awards. "I tell people this is the most important class I've ever taken because it applies to the real world," said Mensh, a senior from Amherst, NH, who has a dual major of management and economics as well as a minor in statistics.
"You get so much out of it," added Lashua, a senior from Ashburnham, MA, who is majoring in management with a minor in communication. "It's so different than a regular assignment because you not only want to do well, but your work will also affect an actual company."
"Many of my students become like my children," said Pruchansky. "It was important to me that I not only taught them something that could help them in their careers, but motivated them to reach their potential in the classroom – that's what I really wanted from teaching."
Related Stories