Inspired – Dean Cardinale '92's Life as an Adventurer and Humanitarian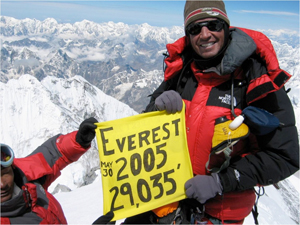 What would you do if you and a friend were coming down from the summit of Denali in a raging snowstorm – zero visibility – and suddenly you realized that your friend was no longer behind you? Or if you had returned exhausted from climbing a dangerous mountain in a very remote part of Indonesia, where one of your local porters had been seriously injured in a rockfall, and you were awakened that night by the other porters who had turned hostile enough to threaten, "If he dies, one of you dies!"?
Those are only a couple of the riveting challenges avid mountain climber, adventurer, and founder of World Wide Trekking (WWT) and the Human Outreach Project (HOP) Dean Cardinale '92, writes about in his new book, Inspired – Lessons Learned from a Life of Adventure. Cardinale has climbed and led expeditions to North America, Central America, Africa, Europe, South America, and the Himalayas, including summiting Mt. Everest in 2005. His book is about pushing yourself to the limit – growing, learning, giving, meditating, striving, being better, being your best. Utah Adventure Journal has published a few excerpts.
A mechanical design and business administration major at Keene State, Cardinale raced for the College's ski team (then Division I) while he was here. He went on to become the president of Wasatch Backcountry Rescue and the first US representative to the International Commission of Alpine Rescue (IKAR). He is an avalanche instructor with the American Avalanche Association and an avalanche forecaster for Snowbird Ski Resort, and a level-III certified US Sailing Captain.
Giving Back
But it's not only about the adventuring. On a trip to Mt. Everest base camp, Cardinale visited an orphanage in Kathmandu where the children of a Sherpa friend who had been killed in an avalanche were living. "I had raised a few hundred dollars in charitable donations with which I planned to buy them some basic necessities such as socks, shoes, underwear, coats, and other things," Cardinale recalled. But seeing the children stirred something inside him. "At that moment, I made a pact with myself: I would do everything I could to give back to the often-underserved communities that World Wide Trekking operates in. My happiness and livelihood were owed to these places. It was the least I could do—the only right thing to do."
That was the genesis of the Human Outreach Project – a nonprofit founded to help give back to the communities where World Wide Trekking operates. "I believed that more outfitters should have a local social mission to give back to the areas they visit," Cardinale explained. "Rather than wait for that to happen, I decided to, as Gandhi said, "Be the change I wanted to see in the world."
Here's a video of how WWT/HOP helped a 12-year-old girl fulfill her dream of climbing Mt. Kilimanjaro in Tanzania, and then lend a hand bringing solar power to HOP's Kilimanjaro Kids Community, which Cardinale established at the base of the mountain:
Related Stories