Keene State and Colonial Theatre Bring Opera to Children and Broader Community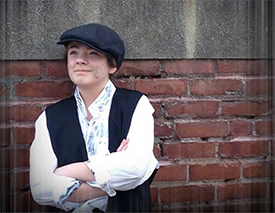 Dr. Matthew Leese of Keene State College's Music Department thrives on challenging his students. This semester, he provided them with a unique opportunity through his Opera Workshop course, as they collaborated with local elementary and middle school students as well as The Colonial Theatre to perform Benjamin Britten's Opera, Little Sweep.
"They spend a lot of independent time outside of rehearsal working alone, as well as with one another, to perfect their roles," reflected Dr. Leese. "This was especially challenging because most MainStage productions take at least five times the amount of formal rehearsal that we had."
Dr. Leese collaborated with Vicky Pittman, founder of the "Opera-tunity" Program and The Colonial Theatre's director of education and community engagement, to create the production. The "Opera-tunity" Program seeks to give students exposure to opera from a young age, to make it more accessible to them. "When people hear opera," said Pittman, "a lot of people don't like it. But when you present it to children, they're much more open."
Dr. Leese and Pittman worked together on The Magic Flute in 2015, presented by Keene's own Raylynmor Opera, in which the "Opera-tunity" students also participated. They enjoyed working together so much that they wanted to partner up again this year, merging the talents and resources of Keene State's Music Department with those of the Colonial Theatre.
Dr. Leese chose the show Little Sweep because he believed it would be enjoyable for both the college students and the community participants, as well as for the audience. He enjoyed the collaborative aspect of the production, he said, because "having the combination of kids and students as well as a faculty member—Dr. Daniel Carberg—meant that they all bounced ideas and energy off each other."
Keene State students also enjoyed the experience of collaboration with the "Opera-tunity" members. "The children bring excitement to performing that I think we forget as we get older," said Keene State sophomore Molly McCoy. "They remind us why we started doing shows in the first place."
Dr. Leese pushes students out of their comfort zones, which has led him to great results. "It was a completely new experience," said another sophomore, Amy Buonpane, who worked as the assistant stage manager for the production. "It was intimidating at first, but it ended up being a great experience."
Dr. Leese and Pittman had a shared goal for this production. They said they aimed to create "a partnership to highlight and feature the college students in a Main Street theatre, as well as to invite younger students to experience a college class." They hope to continue this partnership in the future, as it has benefitted both The Colonial and Keene State College.
—By Michelle Green, Keene State senior majoring in Spanish and Communication Studies
Related Stories