All in the Family: Deb Williams '09, M'16 and Daughters at Keene State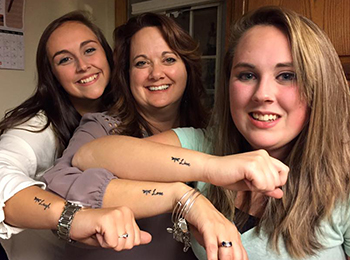 Everybody knows that family members share good things among themselves, so maybe it shouldn't be a surprise that Debra Williams '09, administrative assistant for the Technology, Design, and Safety program, and her two daughters, Taylor Daigle and Jami Daigle, are all students here at Keene State. And Debra and Taylor are graduating in May! Taylor will earn her bachelor's in Safety and Occupational Health and Applied Sciences, and Debra will earn a master's degree in the same field. Jami is a sophomore, majoring in psychology with a minor in criminal justice.
"It has been rewarding working here while continuing my education, but what made it even more amazing is sharing this experience with both my girls," Debra said. "We often talk about what we are learning, how we can relate it to what we are doing in our current employment, and what we can do with it in the future.
"Being a Parent is one of the most rewarding things I have done in my life, and being a first-gen earning my BS in management and now my master's … and being able to share that with my daughters and husband … well, there are no words to express how that makes me feel.
"Sorry for rambling … but I am very proud of the women my daughters have grown into … and I am kinda proud of myself as well."
And Keene State is proud of them, too.
Related Stories