Keene State Student Film Festival at Colonial Theater, May 1
Keene State College's Film Studies' students have produced some remarkable final projects, and this year will be no different. What will be different this year is that the features will be screened at the Colonial Theater in downtown Keene—an excellent venue! So mark your calendar for Sunday afternoon (1–4 p.m.), May 1st. The program includes narrative, documentary, and experimental work by students in the Film Production thesis class, an advanced, two-semester class in which students work collaboratively to create short films, using either digital video or 16mm production techniques. The event is free and open to the public.
The students put remarkable effort into these films, and gain invaluable experience in all aspects of filmmaking. "It was as fun as it was frustrating," explained Kelsey Bean, director of Burnt Marshmallows. "When you watch a movie, you never really think about how much work went into it, because good editors make the final project flow seamlessly. I guess the biggest thing we learned was how much time goes into a film project."
Schedule for Sunday, May 1: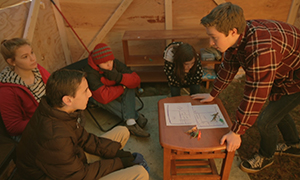 Burnt Marshmallows
A group of clever friends create a scheme to try to raise money for their annual marshmallow roast. As the story unfolds, the kids are forced to deal with the struggle of growing up too fast and the consequence it has on their friendship. (Narrative, 28 min.)
Kelsey Bean, director
Behind the Door Tag
A look at the life of Keene State College's resident assistants (RAs). (Documentary, 20 min.)
Nate Brown, director
Point of Death
A filmmaker driven to despondency has a life-changing talk to regain control of his life. (Narrative, 11 min.)
Lukas Irizarry, co-director
three (3) memories
Images and sounds from my past; a 16mm ensemble of memories. (Experimental, 7 min.)
Sultan Thahir, director
—Intermission (10 min.)—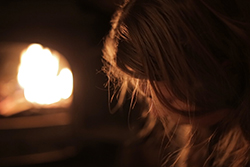 Where There's Smoke
Where There's Smoke follows the growing friendship between the aimless Charlie Biel and a fiery hitchhiker named Mackenzie. (Narrative, 25 min.)
Samantha Spielberg, co-director
Untitled Matt Hanley Project
Using video and audio processing, the filmmaker explores how images and sound can be recycled using digital tools. (Experimental, 5 min.)
Matt Hanley, director
Faux Leather
Allen is a lonely young man. For most of his young life, he has felt self-conscious and lacking in confidence. When Allen is asked out on a date, he experiences a wild night that not only changes his life, but allows him to find the confidence he's been searching for. (Narrative, 12 min.)
Connor Vail, director
Care Giver
Randal helps everyday people by stealing what they need. When he encounters James, a young boy, Randal question his way of life—but still wants to help the boy with his problems. (Narrative, 20 min.)
Matt Hausmann, director
Additional Film Studies' End-of-Year Events
Friday, April 29, 2–5 p.m., Mountain View Room, Student Center: The Critical Studies Conference—students present original research and participate in panel discussions.
Saturday, April 30, 7 p.m., Putnam Theater: Students present works produced in introductory and intermediate Film Studies courses.
Related Stories