Student Film to Premiere at Colonial Theater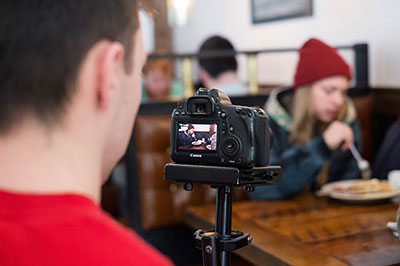 Keene State Film students are co-directing a short film that will premiere at the Colonial Theater in Keene. The film, titled Where There's Smoke, blends the critical studies and film production aspects of the Film Program at Keene State. The film will be playing on May 1.
Samantha Spielberg '16 of Barre, MA, and Samantha Provencher '16 of Hooksett, NH, said the basis for the story—originally the brainchild of Spielberg—was tossed around by the entire crew during the fall 2015 semester. It was then refined as part of a Production III class, which focuses on the process of preplanning a production.
"I focus mainly on critical studies, and this is my first time directing and producing," said Spielberg. "The critical studies perspective tends to make me look at a film differently than if I were just focused on production. That helps me with the writing process for our script and it also helps me with directing because I look at film more abstractly when I'm watching the actors."
Provencher's perspective is markedly different, yet complementary.
"I came to Keene for the film program," said Provencher. "I've always known that I wanted to make and direct films since I got my first camera at age nine; I've always known that was the direction that I wanted to take. I've been creating things like music videos with my friends and directing for many years."
Where There's Smoke will be the culmination of an effort spanning two semesters that included story conception, finding a crew, fundraising, location and talent scouting, shooting and editing. The project is overseen by Film professor Jo Dery but is mostly a trial by fire for the directors and crew.
"The best part of working on this project is that we all have a lot of fun and it doesn't ever feel like work once we start shooting," said Spielberg. "It's a lot of work getting everything prepared and getting everyone in one place but when we're all together it's a lot of fun and it's really cool to see my film coming to life."
Both directors say their experiences at Keene State have prepared them to move forward in the film industry.
"I'm adequately prepared to become a filmmaker because of my experience at Keene State," said Provencher. "The program here is a big program but it feels smaller because the professors are relaxed. I love it, and I love my crew and all the people we work with."
Related Stories