One Student's Fight to Help Others Overcome Drug and Alcohol Addiction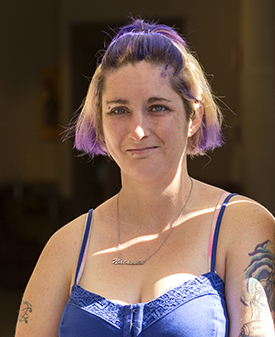 She might be a nontraditional 32-year old woman beginning her first semester as a matriculated student at Keene State College this semester, but Natassia Diffendale is on a mission.
On the road to recovery from drug and alcohol addiction and physical abuse, Diffendale, originally from Perth Amboy, NJ, is dedicating her time and effort with the hope of helping others who have journeyed down a similar path and are looking to regain control of their lives.
"This is something that I never thought would ever happen for me. I can't describe fully what this means to me to be at Keene State. I have gone to too many funerals, too many wakes, and too many memorial services for people who had died because of drug and alcohol addiction," said Diffendale, who wants to become a licensed drug and alcohol counselor.
Returning to the classroom last summer through the College's Link Program and the Women's Educational Opportunity Grant, Diffendale, who plans to major in psychology, has found many allies on campus, including Dr. Michelle Morrow, the College's coordinator of alcohol and other drug prevention, treatment, and education services. The two have brainstormed several ideas they hope to implement next fall, including a student recovery group on campus.
Through the College's Diversity and Multiculturalism Office, Diffendale has also found a mentor in Debra Barrett. Barrett is a 2003 KSC alumna and assistant director of Residential Life for Housing, who was also a nontraditional adult learner.
Making a Difference On and Off Campus
Diffendale attended Keene State's emerging student leadership conference and participated on a panel hosted by Active Minds, a student organization that is working to destigmatize and increase awareness of mental health issues. This summer, Diffendale hopes to travel to the Social Justice Training Institute at Ohio State University, where she'll take part in a forum for professional and personal development of social justice educators and practitioners to enhance and refine their skills and competencies to create greater inclusion for all members of the campus community.
Her involvement doesn't start and end on campus. Diffendale is also involved with several off-campus groups, serving as a volunteer for the Monadnock Alcohol and Drug Abuse Coalition (MADAC) and the Greater Monadnock Area Medical Reserve Corps. She's a recovery coach with the Cheshire County Drug and Mental Health Corps System. Recently, she also began a job with the Coordinated Access Point Program (CAPP) and Cheshire County Assisted Addiction Recovery Initiative (CHAARI) pilot program created to address the current opioid epidemic.
Diffendale has harsh words for politicians and community leaders who are finally addressing the epidemic. "It's about time," she said. "This is not a new problem."
But Diffendale welcomes the dialogue and feels it will encourage recovering addicts like her, empowering them to be more vocal about the issue so they can find the support they need. "There's a mental image that people have when they hear the word junkie, but the drug problem doesn't discriminate and affects all classes, races and age groups," she said.
"I know when I was at my end, I didn't think anybody had my back—so one person showing a little bit of compassion for me made a big difference," she added.
Related Stories