Supporting Student Community Involvement at Keene State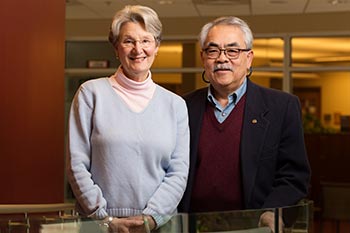 Keene State students not only live and work here, but also volunteer here, giving back to the local Monadnock area through community service. A core value of the College that dates back to its founding in 1909, community service still thrives at Keene State today. Students performed 104,124 hours of service in 2013-14, including student community service work, service-based trips, service-learning courses, and some internships that meet the criteria for community service.
Members of the Keene community for almost 40 years and extensively involved professionally and as volunteers throughout the region, Ken and Carol Jue recently demonstrated their commitment to this valuable work by providing scholarship support to students with financial need who are highly engaged with their community. They believe that individual engagement and giving back are essential elements of a strong, healthy community and wish to encourage and celebrate Keene State College students as they pursue those endeavors.
"I think the students contribute so much to what the non-profit agencies can do in the region," said Ken Jue. "Civic engagement makes our community strong."
"One of the things that really impressed me about Keene State students is how devoted they are to the community where they live," added Carol Jue. "I can't say enough of what I have seen."
Ken and Carole Jue's commitment to community service stems from their background in social work. Despite from his college advisors, Ken Jue, who is Boston born, knew it was the right career move after doing an internship at a state psychiatric hospital in Connecticut while attending Trinity College. "I found out that this is the kind of work I knew I wanted to do and I never wavered from that point on," he said.
Originally from Indianapolis, Carol Jue was drawn to similar work through her interest in social justice issues. Once in Keene, the Jues became deeply involved in the community. Ken Jue served in many roles with Monadnock Family Services, including as Chief Executive Officer for 11 years, while Carol Jue worked as a social worker and counselor in both the public and private sector primarily dealing with mental health issues.
Working with Keene State students over the years in a variety of projects, Ken and Carol Jue know firsthand their commitment to the community. "Keene State is an incredible asset to the community and in some ways underappreciated," said Ken Jue, who is on the board of directors for the United Way and currently has a small consulting business. "The College not only enhances the area economically, but its students, faculty and staff add to the quality of life here."
"Community service was really important through my work professionally and my personal life," he added. "It will be a lifelong devotion for me and I hope for Keene State students whether it's here or wherever they end up living."
Related Stories