Keene State Holds Career and Internship Fair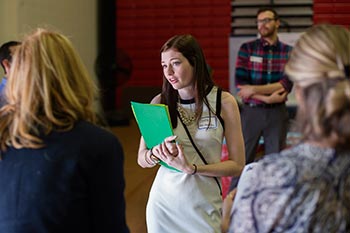 Usually the home of Keene State basketball and women's volleyball teams, Spaulding Gym was full of students trying to make points with perspective employers at the College's bi-annual Career and Internship Fair. The culmination of Career Week, the event attracted almost 100 businesses and organizations eager to fill jobs and internship positions with Keene State students.
Organized by Academic and Career Advising, the fair has developed a long list of participants over the years. Louise Ewing, a career and academic advisor, says it's important to match employers with the skills and interests of Keene State students. "We want them think about it in terms of skills and interests and not businesses and industries," she said. "A lot of these companies hire all majors."
While students are encouraged to come into the fair with a game plan, newcomers were able to take advantage of a First Timer's Tour, where guides tell students what to expect and what they can do to get the most out of the experience. A free photo booth for LinkedIn profiles was also provided.
While Sarah Hickey, a junior psychology/substance abuse major, went from aisle to aisle, stopping at booths that interested her, Jessica Tulley, a senior psychology major from Oxford, CT, made a b-line to the Brattleboro Retreat table. "My plan is to go to grad school in a couple of years, and the Retreat is one of the only places that I know of that will let me get my foot in the door and start working with patients right away," she said.
Keene State alumni are attractive to many companies and organizations. "Keene State is a resource in itself," said Kalie Randlett, a 2015 KSC grad now working as a talent Acquisition Manager at Barton Associates in Keene. "We're looking for students like those from Keene State who are hard-working and involved."
Local businesses like C&S Wholesale Grocers also encourage alumni to stay in the community. "We really enjoy taking people who already have a passion for the community and integrating them into our business," said Melissa Farmer, a member of the company's talent acquisition team. "Through our internship programs, we have a lot of Keene State students who take on fulltime roles after graduation. We've had a lot of success in the past, and we nurture our relationship with Keene State as a result of that."
Eighteen companies at the fair were represented by Keene State alumni eager to help current grads get their foot in the door. "This is the only place we come because of the College's safety program," said Andrea Vann '10, who works with UIS Group, which provides underwriting reporting for commercial insurance products. "We have hired at least five KSC grads because of their background."
Some employer representatives, like Lisa McPhail '90, a safety studies alumna now working for Arcadia Insurance, and Taylor Hall '14, who works at the Brattleboro Retreat, are Career and Internship Fair success stories themselves.
Most fair attendees were upperclassmen, but Ewing said it's never too early to start looking at the job market and seeing what's out there. "A lot of employers are very interested talking to sophomores. We want them to start thinking about it in their first and second year."
Related Stories