Paul Fiaccone '02 and His Dog Cherry Garcia Star in MONIFF Feature Film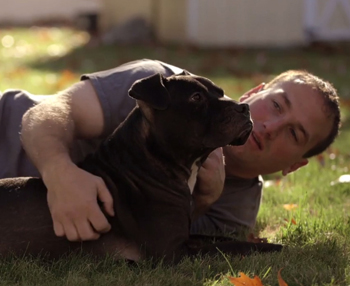 Keene State business management major Paul Fiaccone '02 was back in Keene on Friday, April 15th, for the Monadnock International Film Festival, not as a festival goer, but because he appears in one of the feature documentaries, The Champions. Actually, it's not him so much in the film as his dog, Cherry Garcia, a pit bull rescued from Atlanta Falcon's ex-quarterback Michael Vick's dog-fighting ring.
As the film's website states, "The Champions is an inspirational story about the pit bulls rescued from the brutal fighting ring of former Atlanta Falcon's star quarterback Michael Vick, and those who risked it all to save them, despite pressure from PETA and The Humane Society to euthanize the dogs. It is a story of second-chances, redemption and hope. This uplifting documentary takes us on a journey about much more than just dogs—about prejudice, being misunderstood, the power of resilience, and the significance of the relationship we as humans have with animals. Featuring the work of Best Friends Animal Society."
Fiaccone and his wife, already involved in pit-bull rescue, adopted Cherry Garcia from Best Friend Animal Society in Kanab, UT. He was one of the most traumatized dogs rescued from Michael Vick's property. "Cherry was featured on National Geographic and we fell in love with him," Fiaccone said. "From there we had a year-long application process and he came home in September of 2009. We officially adopted him March 10th, 2010, after a six-month court-order foster period. He is a major focus of the film, which follows five of the dogs rescued from Vick, as well as the two major organizations that stepped up to help these dogs."
Life has changed dramatically for Cherry, who has gone from a abused fighting dog to film star. He's been written about in several publications and even has his own Facebook page, with over 15,700 likes!.
Related Stories