16th Annual Academic Excellence Conference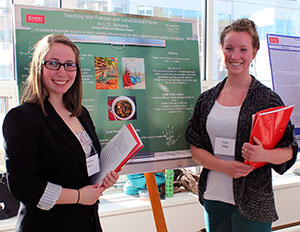 Keene State College will host its 16th Annual Academic Excellence Conference on Saturday, April 9, which will include a dance performance and research presentations. The event is free and open to the public.
Student works cover a range of topics, from the study of bacteria that harm people and shellfish, to an exploration of awkwardness through dance. This event brings together students and their families, faculty and staff mentors, area legislators, system trustees, and city residents in a celebration of academic research and other forms of scholarship.
When: Saturday, April 9, 2016 from 9 a.m. to 5:15 p.m.
Where: Lloyd P. Young Student Center and David F. Putnam Science Center Keene State College
View the full schedule of presentations, topics and more.
View videos of some student presenters at this year's Academic Excellence Conference.
Katie Kiley, biology major, who will present research on the occurrence and affects of Vibrio vulnificus bacteria in Great Bay Estuary in NH. Watch
Abbie Brown, dance major, who will perform a dance piece exploring awkwardness. Watch
Evelyn Cauchon, sociology major, who will present on how people's actions change based on their surroundings, including how not knowing the local language affects behavior. Watch
Danielle Carlson, criminal justice major, who will present on the current state of U.S. drug laws. Watch
The Academic Excellence Conference is sponsored by the Office of the Provost, Office of the Associate Provost, Keene State College Student Assembly, Marketing and Communications, and Vice President for Student Affairs and Enrollment Management Office.
Related Stories