Keene State Language Students Help Fill the Void in the Classroom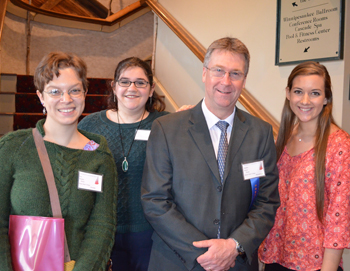 To say Keene State modern language students are well prepared to become teachers is an understatement.
For starters, Associate Professor of Modern Languages Dr. Stephen Hawes, a 1999 Keene State grad who describes himself as an incurable linguist, not only passes on his love of language in the classroom, but also goes the extra step by taking his aspiring modern language teachers to the annual New Hampshire Association of World Language Teachers (NHAWLT) Conference very year. In addition, students not only go on a mandatory trip abroad to enhance their fluency in the language they are studying, but also measure their competency by taking an internationally recognized oral proficiency interview when they return.
This past year, four Keene State students—Susie Udall, Emma Cote, Erin Williams, and Jessica L'HommeDieu—attended the conference that took place in Meredith, NH. The only undergraduates at the conference, they were welcomed with open arms and treated as peers. The students were not only able to attend multiple presentations, but also had the opportunity to network with teachers willing to share their knowledge and experiences.
Udall, a junior from North Attleboro, Massachusetts, called it a one-of-a-kind opportunity. "I cannot put into words how much I learned," she said. "I was able to choose the sessions that pertained to my life and my goals for the future."
"It was extremely eye-opening and educational," added Cote, a junior from Candia, NH, "I know what I learned will help me on my way to becoming the Spanish teacher I want to be."
Hawes proudly reports that all his students, once certified, are employed, with many receiving job offers prior to graduation.
Williams is one of those students. Currently teaching French at Keene High School, the Jaffrey native who graduated in 2011 is back on campus getting a post-baccalaureate degree in education. "It's great," she said. "I can put the information straight to use in the classroom."
Three students are currently studying abroad. Cote recently left for Chile, while Udall and L'HommeDieu are studying in Spain and Ecuador, respectively. "I have been here two short months, and it has already been a life-changing experience that I would recommend to everybody," said Udall. "I have learned so much about the culture, the language and even about myself."
According to the NH Division of Education there is a critical shortage of French and Spanish teachers in New Hampshire. Keene State is helping to fill the void.
Related Stories