Hubbard Gift Will Support, Enhance Thorne Permanent Collection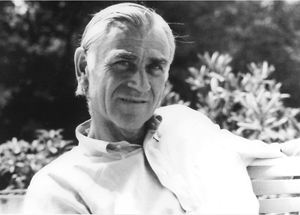 As the centerpiece for the visual arts in the Monadnock Region, the Thorne-Sagendorph gallery is home to an important permanent collection of fine art that supports teaching and research and provides audiences with unique perspectives on the region and the wider world. The collection includes works by artists such as Andy Warhol, Alice Neel, and Jules Olitski, as well as a concentration of works by the Dublin Art Colony, the creative community based in Dublin, NH, around the turn of the 20th century that gathered such notable artists as Richard Meryman, Gifford Beal, Barry Faulkner, Alexander James, Rockwell Kent, Joseph Lindon Smith, Edmund C. Tarbell, and Abbott H. Thayer. The Thorne collection was also enhanced in 2008 by a generous gift of art from Robert Hubbard that includes paintings, drawings, prints, and sculpture by artists such as Elaine De Kooning, Albert Hirschfeld, William Hogarth, N. C. Wyeth, Jud Hartmann, and David Aronson.
Though the Thorne has been proud to steward such an impressive collection, it has been challenged to maintain adequate space to properly store often fragile and valuable artwork. It needs special racks and climate-controlled storage space to adequately maintain its growing collection of art treasures. Fortunately, Robert Hubbard's estate recently gave over $500,000 through a trust for the Art Gallery.
Hubbard, who lived in Walpole, New Hampshire, taught preparatory school English for many years and was a serious and knowledgable art lover and collector. He was also a generous donor to educational, conservation, historical, and other agencies. He came to know Keene State while visiting two grandnieces who attended the College.
"This extraordinarily generous gift enables the Thorne to think boldly about how to protect the gallery's permanent collection and to explore new ways to share this resource with existing and emerging audiences, to craft exhibitions and events that enrich, challenge, and connect those audiences, and to find new ways to support and present the work of artists from our campus, our region, and beyond," said Director of the Thorne-Sagandorph Gallery Brian Wallace
"Mr. Hubbard felt we were doing a great job creating a center for culture in the Monadnock region," explained Maryann Lindberg, vice president of Advancement. "This is an investment in art that will serve the entire region."
Preserving the Past, Stepping into the Future
"We are carefully ramping up our work documenting and re-housing the permanent collection, working with students, faculty, and—over the next months—experts in the field to develop a long-range plan that will ensure the stability of the objects in our care and allow greater access to information, images, and artworks," Wallace continued. "Future exhibitions—traveling, organized by the Thorne, and developed in collaboration with various partners—will include projects that present new research on the area's rich artistic legacy, that re-examine art and culture from far-flung places, and that highlight new and under-appreciated artists from our region and beyond. Our events—most free of charge to all—will include more diverse perspectives, more artists' voices, and more traditional and non-traditional sights and sounds (we're especially interested in exploring the overlaps between art, music, and performance). We'll be assessing, prioritizing, and introducing new initiatives—an artist-in-residence program, collaborations with public art, historic-site, and other area entities, and a renewed emphasis on educational outreach—along with the Thorne's other programs, as part of a commitment to maintaining the region's cultural and artistic offerings."
Obviously, even a gift as generous as Hubbard's will not fund such ambitious and forward-looking plans forever, but it certainly lays a solid foundation to build on.
Related Stories