Keene State and Local Musicians Unite to Perform Dvorak's Stabat Mater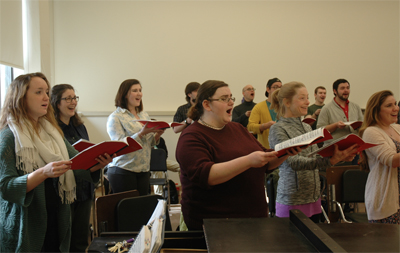 For artists and musicians on campus and in the local community, Keene State regularly offers great opportunities to create and grow. And that's especially true for the Music Department's upcoming performance of Antonin Dvorak's Stabat Mater, a masterwork for chorus, vocal soloists, and orchestra, on Wednesday, April 6, 2016, at 7:30 p.m., in the Main Theatre of the Redfern Arts Center. The effort engages approximately 120 singers and musicians from the campus and the local community.
The chorus includes singers from the KSC Chamber Singers and Concert Choir and from local choirs such as The Keene Chorale, the Chamber Singers of Keene, the Keene Pops Choir, and the Monadnock Chorus. Associate Professor of Music Sandra Howard also created a CALL class (Cheshire Academy for Lifelong Learning) specifically to train community members to sing in the chorus.
"Participants were not required to audition, but we strongly recommended that they be able to read music," Dr. Howard explained. "If they were currently singing in another community choral organization, then that suggested that they're familiar with rehearsing and performing. So far, the voices are sounding good. We can and should expose people to that music whether they're performing it or listening to it, so I think the benefit outweighs the need to have rigorous auditions. That's not the charge of this particular project." In 2015, Dr. Howard was awarded the President's Good Steward Award for "her impressive work using music to engage Keene State students in meaningful community partnerships and to strengthen the cultural life of the larger Keene community." Obviously, the award is well deserved.
"This performance of the Stabat Mater is an incredible opportunity because it's such a large work with such a large ensemble," said Jonathan Way, music education and composition major, assistant conductor of the KSC Chamber Singers, and concertmaster of the College Orchestra. "It's rare that most musicians get to perform it. It also allows our student instrumentalists to work with our student vocalists. All in all, this specific performance brings everyone from the music department together and allows us to collaborate with community members for what should be a very impressive and beautiful concert."
"I think that it is great that so many community members have been able to join with the Keene State College students and staff to all perform together," said Margaret Kasschau, a community singer in Dr. Howard's CALL class. "I have always enjoyed singing liturgical music, so participating in this grand performance of Dvorak's Stabat Mater is a wonderful opportunity for me."
Don Baldini will conduct the concert, and Diane Cushing (soprano), Pamela Stevens (alto), Daniel Carberg (tenor), and Matthew Leese (bass) are the vocal soloists. The symphony orchestra features the Keene State Orchestra, members of the area's community orchestras, and professional musicians from across New Hampshire and Vermont.
Tickets ($10; $ 5 for students & seniors) are available at the Redfern Arts Center Box Office (Mon.–Fri., noon–5, and one hour prior to the concert), online, or by phone (603-358-2168). Tickets are . For more information, email Kerri McCormack or Sandra Howard.
Related Stories