For Keene State Study Away Students, a Picture is Worth a Thousand Words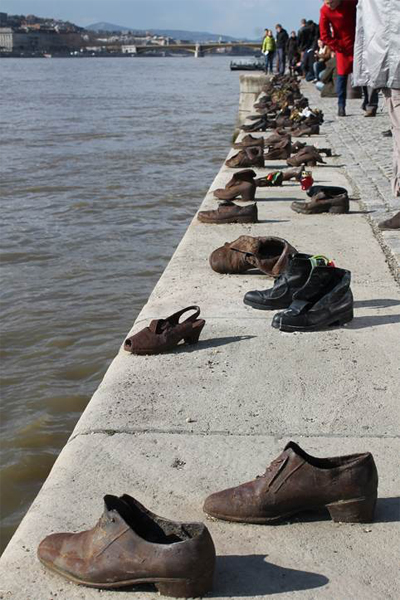 The saying, "A picture is worth a thousand words," certainly applies to several students who submitted their photos to the recent Study Away Photo Contest put on by Keene State's Global Education Office (GEO).
The contest enabled members of the Keene State community to view interesting and memorable photos taken by students during their study abroad trips last spring and vote on their two favorites.
Laura Zuelch, who coordinated the contest, said she got a good response from this year's contest with 83 photos and over 100 votes.
"Study away opportunities serve as both an educational and cultural experience for the students," Zuelch added. "Students earn credits for academic work, but they also join clubs and volunteer and connect with their communities and travel to surrounding areas."
Zuelch points out that three out of four winning photos were taken outside the country where the students went to study.
Kayla Magan, Jagiellonian University, Krakow, Poland
A senior Holocaust and Genocide Studies from Epsom, NH, Magan went to Krakow to be in close proximity and experience firsthand many of the things she had studied about in the classroom. On a weekend trip to Budapest, Magan and her HGS classmates came across the Budapest Shoes, a moving memorial on the edge of the Danube Rover to those that lost their lives during the Jewish purge in the city during World War II.
In her own words: "I can only imagine what was going through their minds at the time and not knowing what was going to happen to them."
Courtney Parsons, Seville, Spain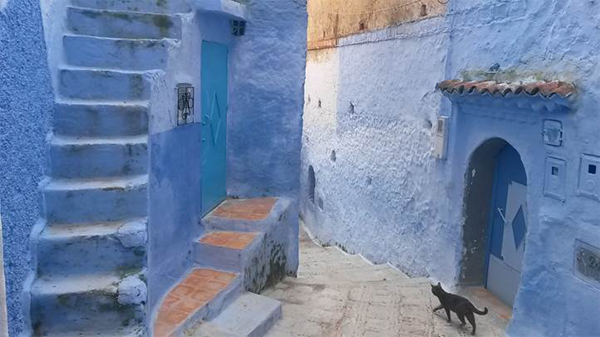 A senior psychology major and Spanish minor from Londonderry, NH, Parsons took this photo while visiting Chefchaouen, Morocco. Known as the "Blue City," Chefchaouen consists of narrow alleyways, stairways, and cats.
In her own words: "We were getting a tour through the city. There were a lot of little shops with people trying to sell us things, and we came upon this scene. … Seeing the world through a blue lens was an amazing way to live, even just for a day."
Sara Garrey, University of Derby, England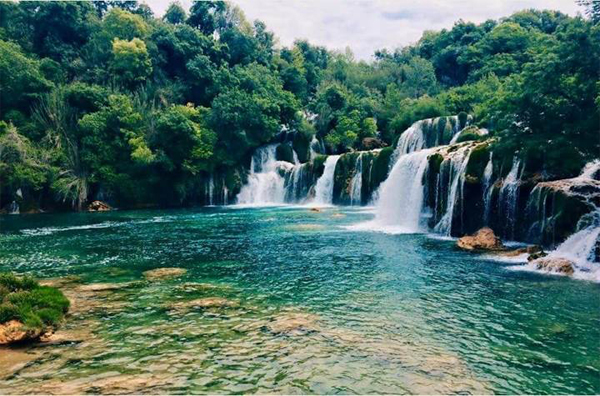 A junior elementary education/psychology major from Wethersfield, Connecticut, Garrey caught this shot while visiting the waterfalls of Krka National Park in Croatia.
In her own words: "Hundreds of waterfalls just like this make up the park, and you are completely stunned by the beauty. It was an absolutely amazing experience to see the waterfalls in person."
Mackenzie Morse, University of Limerick, Ireland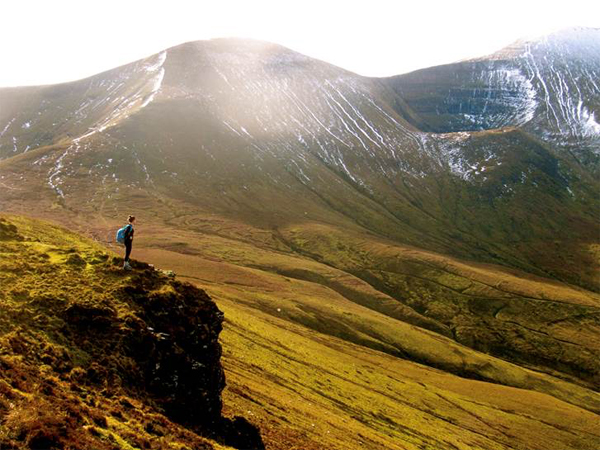 A senior psychology/addiction major from Littleton, MA, found this piece of paradise during her first hike, a 12-mile trek up the Gale Mountains with the University of Limerick's Outdoor Pursuits Club.
In her own words: "The picture was taken during our lunch break. We were so tired, but I couldn't stop looking at the view. You look out and say, 'Wow—I'm not in the United States right now.' It was a moment I will never forget."
Related Stories