Common Ground's Spring Break Week in Miami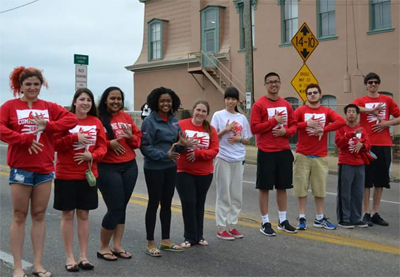 For many college students, spring break and Florida means vacation, taking a break from an arduous academic schedule to relax and unwind for a week. But a group of 12 students from Keene State's Common Ground Multicultural Club spent their spring break week in Miami, taking part in a various community service projects.
Associated with the College's Office of Diversity and Multiculturalism with the main goal of supporting unrepresented students on campus, Common Ground has been making spring break community service trips for many years. For Common Ground President Harpreet Kaur and Antonio Rivera, the club's vice president, it's all about giving back. "I really like doing community service," said Kaur, a senior health science major from Dover, NH. "It's very rewarding to know you've impacted someone's life."
"I don't like spending a lot of time on myself," added Rivera, a sophomore architecture major from Springfield, MA. "I like spending my time giving back and helping other people."
This is the second straight year Common Ground students traveled to Miami. Kaur said the group is drawn to the area because of its diverse culture and community service work. "There are so many different things you can do," she said.
The students spent the week working with DOOR Miami, an organization that provides opportunities for service, learning, and leadership development within an urban setting. Last year the Keene State students worked on several projects, including initiatives to prevent gun violence and get youths off the streets and assisting homeless people. "I didn't know what to expect, but it made me appreciate the little things in life that I take for granted," said Rivera.
Begin pull-quote…

I really like doing community service. It's very rewarding to know you've impacted someone's life.

…end pull-quote
One of the highlights of last year's trip was a stop in Selma, Alabama, where the group got to watch a march commemorating the events that contributed to passage of the Voting Rights Act, a landmark federal achievement of the 1960s American Civil Rights Movement. "We had our Common Ground shirts on and people asked us about the organization," said Rivera. "They were happy to hear about our group and the work we're doing."
This was the third Common Ground trip for Kaur. As a sophomore, she went to New Orleans where she did clean-up and recovery work following Hurricane Katrina.
Planning to continue their education and follow a social justice path, both Rivera and Kaur feel their experiences with Common Ground will benefit them when they graduate. "Common Ground showed me how to interact with different people," said Kaur. "Going into the healthcare field, I'm going to interact with people from many different backgrounds and I think I'm ready to communicate and do it in a way that is respectful to them."
Related Stories