Study Away and Honors a Solidifying Experience for Keene State Senior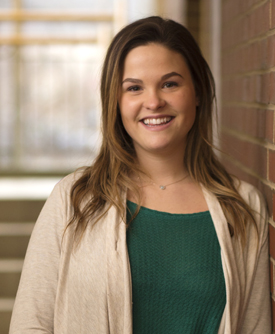 Keene State senior Evelyn Cauchon found love and a healthy dose of self-confidence during her honors capstone experience in France last year. She gained academic experience that enhances her work on campus, and the trajectory of her life changed dramatically.
Cauchon, from Amherst, NH, is studying Sociology with a minor in Addiction Studies at Keene State. She was required to take a semester abroad to meet requirements set by her honors capstone class that requires each student to take part in global engagement through a study away semester.
"I went to a French university where a lot of the English-speaking students stuck together. It was at school where I met Wes, who is now my husband. He was attending West Point and was in France with a few other cadets studying abroad," said Cauchon. "We had classes together, and when we came back we dated for a year before getting married. He's down in Fort Benning, Georgia, right now, and he's going to be stationed in Germany, so we'll be returning to Europe next year."
Evelyn said that France was a solidifying experience for her as a time to figure out what she was really made of.
"I met Wes and made friends and I also traveled alone. It was very important because it taught me how to be by myself, and it taught me how to be independent in another country and I learned so much about different cultures. I feel so much more confident now, and I realize that there's so much more out there than what we see everyday," said Evelyn.
When she returned to Keene State for the spring 2015 semester, Evelyn was able to transfer some of the sociology work she had completed in France to a project for the Academic Excellence Conference (AEC) at Keene State—an annual public event held by the College to highlight the scholarly and creative work of Keene State's students.
"I used my research from studying abroad as well as research from sociologic theorists to understand why language is so important and how important it is to be multilingual and how your personality can change if you're in a place where you don't know the language and how that affects you," she said.
Alongside the AEC presentation, Evelyn also completed an internship with Planned Parenthood of Northern New England as a reproductive justice intern where she also found her sociology skills applicable.
"It was interesting how I picked out sociological aspects in the internship, such as why they have to work so hard at marketing certain terms to certain people and how people interact in the communities that they reach out to—low income communities, for example," said Cauchon.
Before coming to Keene State, Evelyn said she didn't consider herself to be an outstanding student, but now she appreciates taking a chance with the honors program at Keene State.
"The honors program teaches you how to challenge yourself and to do it on your own. Nobody forced me to take the classes and nobody forced me to do the work that I did. You have the motivation from the professors and the motivation from being in the program. I think you give yourself those challenges, and it's a character-building experience," she said. "Hard work made my college experience what it was."
Related Stories