Career Week Keynote Speaker Addresses Importance of Asking for Help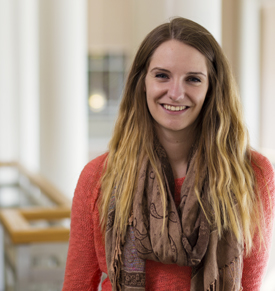 Though her path from Keene State to the professional world hasn't taken her a far distance from campus, Kalie Randlett '15 has made notable progress in terms of upward mobility in her professional career—and she attributes that growth to Keene State and the skills they provided her.
Randlett, a Talent Acquisition Specialist at Barton Associates in Keene, double majored in Communication and Social Science before graduating and heading directly to Barton—a job she said she feels complements the skills she learned at Keene State, specifically the classes of Dr. Chitra Akkoor and Dr. Jamie Landau.
"All day I build relationships with people. I took Theory of Communication and Persuasion with Chitra, which is helpful to get people to come work for Barton. My senior project was on visual rhetoric and that taught me how to analyze things like body language and reactions and that's a lot of what I learned in these communications classes and it's a lot of what I use at work. It's become second nature. I don't even realize that I'm using things at work that I learned in the classroom," she said.
Aside from the in-class learning, Randlett was deeply involved in extracurricular activities that also honed the skills she practices at Barton. During her time at Keene State she worked in the Mason Library, as an orientation leader, a peer advisor, and Career Center associate. But most importantly to her was her internship with the Admissions Office, which allowed her to put into practice the communications skills learned in the classroom.
"What I did with Admissions was travel to college fairs for high school students searching for the right college, so I was able to stand on the Keene State side of things and get to figure out quick ways to talk about the college to sell it to the student," she said. "And that's what I do when I go to career fairs, I stand behind my table and talk about the position that I'm trying to fill. You have to learn to quickly build relationships during that timeframe, which was one of the biggest things I learned from working in Admissions but also the emailing, connecting, and following up that I was doing after things like Admitted Students Days."
When asked what she's learned from her professional career that she wished she knew as a student, Randlett said that she actually learned her most important lesson to date while she was still a student.
"My advice that I would give students I learned during my first two years at Keene State. During that time I really didn't do anything—I was taking my classes, I would work a few hours at the library and that was it, until I realized how much the faculty and staff are there to help you and that they want you to succeed," she said. "It started to click when I began making friends with professors and getting to know who they were and what they were doing. And it was advice that I got from my sister who said that she didn't meet her professors or get to know them and I should. It's because of Chitra that I am where I am now, so that was good advice."
Even with the help from her professors, Kalie said that she still needed a little polishing before she's be an acceptable candidate for hire and that polishing came from the Career Center in Elliot Hall.
"They reviewed my resume more times than they wanted to. They did mock interviews with me and they made me go talk to employers at the career fair because I didn't want to. Going to the Career Center, you just have to be open to learning, and if someone tells you something that you don't want to hear, rather than not listening and guarding yourself, take it as constructive criticism. A big part of my job is rejection, and when you get rejected while trying to build your relationship, you can't dwell on the rejection," she said. "Even if you don't know what you want to do, there's so many people at the Career Center that will listen to you and try and help you figure out what you want to do."
Related Stories