Keene State College Celebrates Creative and Scholarly Work by Faculty and Staff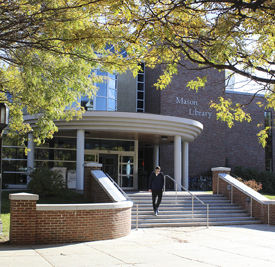 Public Invited to View Works on Display in Mason Library
Keene, NH, February 19, 2016: Keene State College invites the public to view the scholarly and creative work of College faculty and staff members. The second annual Celebration of Scholarship and Creativity will display a variety of scholarly and creative works, including journal articles, books and film—among many items, the display will include a book on modern Jewish fiction, a Poet's Showcase that will feature New Hampshire poets, and an article on adults with intellectual disabilities.
When: Wednesday, February 24, from 4–6 p.m.
Where: Keene State College's Mason Library, Marion Woods Reading Room
The event and display are free and open to the public.
Related Stories