Michelle Green: HufPo Writer and Engaged Student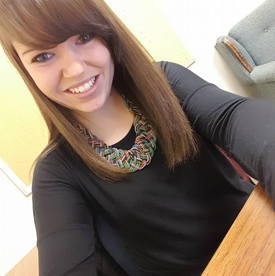 For motivated and involved students, life at Keene State can open up a lot of opportunities. Take senior Communication major Michelle Green, for example. She's an intern for the College's Marketing & Communications Department, which has encouraged her to write for the Huffington Post. So far, she's done two stories for the Huffpost College blog, "The Elephant in the Room: Cell Phone Use and Social Media" and "10 Reasons You Should Study Abroad".
"Writing for HufPo has been such an exciting opportunity," she explained. "I love the freedom to write about whatever topics I choose. They are really efficient in publishing my submissions, typically having them posted within 24 hours. I enjoy writing, so having my own blog, especially on such a well-known website, has been really rewarding. It's also a great means of sharing my writing with long-distance friends and extended family, from whom I've received really positive feedback. I am grateful for the opportunity to tell stories in my own voice."
But she does far more than just intern for Marketing and Communications; she also works as a program management intern with the Young Entrepreneurs Academy (YEA!), where she handles logistics and communication between the program and guest speakers/field trips. Her advisor, Assistant Communication Professor Chitra Akkoor, recommended her for both internships. She also attended an annual networking event that Dr. Akkoor arranged and other career-focused events such as the Career Speakers Series, Resumania, and various job and internship fairs. As a member of Lambda Pi Eta, the Communications Honors Society, she also attends roundtable discussions and networking opportunities with various local professionals.
Yes, there's lots of possibility at Keene State for those who care to look. "I have often told my parents that I have had more opportunities within my reach as a Keene State student because of the rapport I have with my professors, both professionally and personally, than I would have at a larger university," she said.
Related Stories