Keene State Republican and Democratic Clubs Hope to Further Discussion, Activism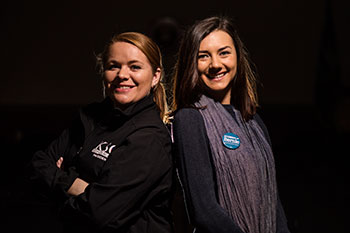 They might be seniors and have similar first names, but that's where the similarity ends for Keene State students Kate Charron and Kaitlyn Kelly. Charron is the president of Keene State Republicans while Kelly serves as the president of the recently reactivated student Democratic Club on Campus.
With the primary around the corner and the national election in November, both clubs are gearing up, hoping to promote activism on campus and provide forums to discuss the issues. "We have an opportunity to change history," said Kelly. "It sounds dramatic, but New Hampshire is a swing state and it's extremely important to have a politically active and involved campus."
"As a political junkie, I feel blessed to be in New Hampshire," said Charron. "I have contacts with other college Republicans working all over the country, and they don't get that kind of intimate connection or exposure to major candidates."
While the KSC Republicans has maintained its club status over the years, KSC Democrats have been dormant, waiting for new leadership and direction. Kelly was happy to step forward and fill the void. "Here we are a liberal arts college in New Hampshire with a Republican club, but no group for Democrats," said Kelly. "Professor Mike Welsh mentioned it to me, so I decided to get the ball rolling and revive the club."
Kelly and Charron's interest in politics goes back a long way. Originally from northern Virginia but raised in Hanover, MA, Kelly had family members who worked in the White House and the Pentagon. "My dad's family is staunch Republicans, while my mother's family has always been very liberal. "I've been fortunate to experience both sides of the debate," she said.
Intending to be an education major at KSC, Kelly switched to political science after taking a class with Professor Wes Martin. Highly vocal about many issues, Kelly recalls a heated debate she had in class her sophomore year, when she temporally stormed out of the room. "I had more to say, so I whipped back to the class, and Wes and I had this big conversation and from there I fell in love with the major," she said. "I feel lucky to find something in college I'm really passionate about."
Charron, who is from Rindge, NH, says her interest in politics evolved from attending Jaffrey/Rindge and Fitzwilliam Republican committee meetings growing up. Disappointed but not undeterred after losing an election for class president her junior year at Conant High, Charron did an internship last year in Concord with the NH Republican State Committee.
Looking for a conservative group to join on campus last year, Charron became aware of KSC Republicans and has worked to increase its numbers and impact since becoming president. "There is a lot of partisan animosity, but as long as you are involved and have issues that you care about and are educated about these issues I think that's great," said Charron. "As millennials, we're the next generation taking on the world and we need to be informed and we need to have a world that works for us and in our best interest."
"I think college students are more interested in politics than people give them credit for," said Kelly. "I wish there was more activism around that interest. Hopefully with the primary coming up, people are going to become more involved with the campaigns."
Recently named the vice president of KSC Democrats, Erik Labieniec, a sophomore political science/economics major from Berlin, CT, has been working on the Bernie Sanders campaign. Labieniec said he got a good response from a dorm-storming – going to the dorms and getting people to come out and vote and texting them when they got shuttles going the day of the primary. "We're trying to get as many people out to the polls as possible," he said. "We had a few dorm doors slammed in our face, but nothing too bad. I love working on the campaign."
In the meantime, Kelly has been on the stump, tabling and making classroom visits to spread the word about the club and network. They're also collaborating with the American Democracy Project on campus to hold events for the upcoming NH Primary. Kelly emphasizes that even though the Democratic club has worked with both the local Hillary and Bernie campaign teams, it remains officially uncommitted to a candidate.
"I just talked to a member of KSC Republicans the other day, and we're actually looking forward to working with them together to get as many people out to vote," said Labieniec. "We're also thinking about setting up a debate once we get a few more followers in the clubs."
"I would love to see [the debate] happen and would love to see other students witness it." said Kelly. "It's not Fox News or MSNBC, but people you go to class with who are debating. They live the same life as you."
Kelly and Charron hope to continue their political involvement after graduating in May. Kelly plans to enroll in a graduate program at the Washington Center for Internships and Academic Seminars that helps students from around the world gain valuable experience, and set them on a course of achievement, leadership and engagement in their communities. Charron, who also works as a marketing assistant with the Redfern Arts Center and as communications director for the NH Federation of College Republicans, is weighing many options in the field.
Related Stories