Prof Lezcano to Perform at Havana's International Guitar Festival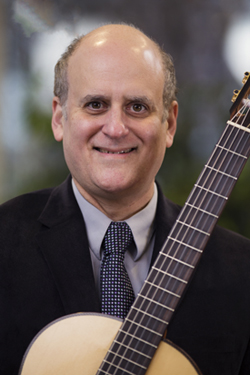 This just in from Jose Lezcano, professor of music:
I am thrilled to be making my debut as performer in Havana, Cuba, during the Identidades International Guitar Festival, Feb. 1–6. I'm scheduled to perform a solo recital set, and also appear as soloist in my second double concerto for guitar, flute, and string orchestra, "Sojourners," at the Basilica de San Francisco de Asisi, Feb. 3, with Swiss soloist Antipe da Stella, flute, and Orquesta Solistas de La Habana (directed by Iván Valiente). The venue is the Basílica Menor del Convento de san Francisco de Asís in the historic center of Havana. My solo guitar recital set will include works by Fernando Sor, Celedonio Romero, Antonio Lauro, and some original compositions of my own.
Also, during the festival, the Dúo Con-Trastes will give the premiere of my Key West Suite for two guitars, composed during my artist residency at the Studios of Key West in June, 2013. I hope to pick up some Cuban cigars and Havana Club rum now that restrictions have been lifted on bringing back a small amount!
Related Stories