KSC Wins Grant to Collect NH Poets Laureate Papers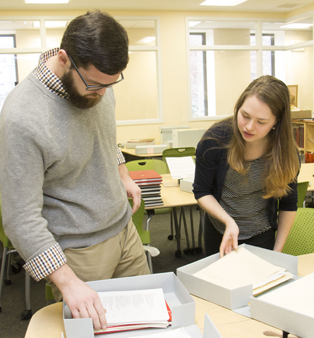 Rodney Obien, Keene State's head of Special Collections and Archives, has secured a $10,000 grant from the NH State Library to archive and preserve the papers of four New Hampshire Poet Laureates:  Marie Harris, Patricia Fargnoli, Walter E. Butts, and Alice B. Fogel. The project will organize, describe, and rehouse unprocessed papers; digitize original manuscripts for preservation microfilming; create a set of preservation microfilm; and make a selection of digitized manuscripts available online.
"Why are we collecting NH Poet Laureate papers?" asked Prof. Obien. "Because no one else does, which surprises a lot of people. I want people to know that the Keene State archives welcomes artists'—and other people of note's—papers. My interest is that if there are papers of importance that they get preserved somewhere and are accessible."
Since the archives already houses the Modern Poetry Collection, adding the papers from the state's poets laureate is a logical step. These collections also offer rich scholarship opportunities for Keene State's students. "In addition to wanting to preserve the literary history, we want our collections to be used for study," Prof. Obien explained. "Being able to study these materials really adds a dimension to your education. It opens your eyes. By gathering these collections, we're helping to create a better, broader learning experience for our students."
"Professors bring their students here to use the books and collections that we have," said Assistant Archivist Brantley Palmer. "One of the advantages of digitizing this material is that it makes it so easily available to such a large audience. Even if the student or researcher doesn't come into the archives, they can still see the material on their computer."
"In studying a poet, you can read his/her poetry, but you can also read his/her papers and materials to learn about how one is a poet. What does it mean to be a poet?" said Hayley Lamberson, project archivist. "We don't just have manuscripts, we have correspondence, journals, and notes, and you really get to know the artists—very intimately. They're already showing their heart through their poems, and we see the back story. It's a kind of emotional experience."
And there's always more to do: "We're also realizing that we need to record the poets reading their poetry," said Prof. Obien. "It's one thing to read the poems, but it's important to hear how the poet intended the meter and pauses and inflections." So look for audio recordings—or even video—of these accomplished artists in the not-too-distant future.
---
This preservation project has been made possible through funds received from the sale of the New Hampshire Moose Conservation License Plate and administered by the New Hampshire State Library, a division of the New Hampshire Department of Cultural Resources.
Related Stories