Keene State Alumni Help Keene Deal with Wastewater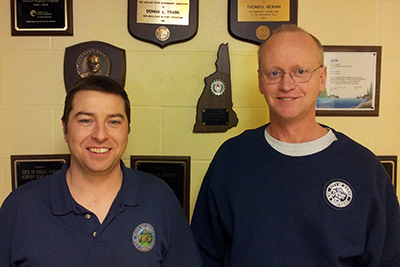 Keene State College grads Aaron Costa '97 and Eric Swope '99 aren't wasting their time. In fact, they play a vital role in the Keene community working at the city's wastewater plant.
"People don't tend to think about wastewater. And nor should they. That's our job," said Costa, who serves as operations manager of the drinking and wastewater treatment facilities. "We want to make the treatment process and the health of the Ashuelot River the best that we can."
While Costa's job predominantly takes place around the facility, Swope's work is mostly off-site. As the industrial pre-treatment coordinator at the plant, he serves as a liaison between the city and local industries and restaurants in the area. "I go around to the businesses to see what's coming down the drain and see if there's going to be any issues related to our infrastructure or environmental impact," said Swope. "For the most part, industry is very happy to help out. We have a good relationship."
Biology majors at Keene State, Costa, from Norfolk, CT, and Swope, from Plainwell, MI, were always interested in environmental issues. They were attracted to Keene State to study and take advantage of the abundant outdoor activities in the area.
"I think you take out what you put into it," said Costa about his education at Keene State. "I made sure studying and my school work came first."
Costa said he enjoyed the fieldwork that was included in his classes and lauded several faculty members, including retired botany professor Dr. David Gregory. "He had a very unique style about him," said Costa. "He was very intelligent and had a neat way of presenting the material."
Costa, who met his wife Jennifer Gaughran '97 at Keene State, still works with his former chemistry teacher Dr. Stephen Stepenuck, who is part of the Ashuelot River Advisory committee. Costa also has a chance to renew acquaintances with several KSC professors who bring students over to tour the facility.
A late arrival to the classroom, Swope enrolled at Keene State after helping his wife Roshan get through Antioch University New England. "I found when I went back to school I was actually ready to be a major participant in the classes so I had a lot of questions," Swope said. "Even in classes when I didn't have a specific interest going in, I found that if I dug into it – it became interesting."
"Like Aaron, I gave my studies the attention it needed – I was pretty invested," said Swope, who also appreciated the work of Dr. Gregory, choosing him as his advisor.
Staying Connected
In addition to doing outreach work in the community, Swope still maintains a connection to alma mater, helping with several environmental initiatives. Costa and Swope decided to remain in the area after graduating. "You get into the work force, start meeting more people and building roots and it's hard to uproot and pull away – especially when there's no need to," said Costa. "My wife and I decided to stay and build a family and a future here."
Swope echoed Costa's thoughts. "Once we got settled in the area having kids, interacting with the schools and becoming connected to the community, it's difficult to uproot. But also you don't want to leave," he said.
According to Costa, Keene's wastewater plant was built in 1985 and designed to treat six million gallons of wastewater every day, but typically treats about 3.5 million a day which equates to approximately 1 billion gallons a year. "I've been here 15 years, so that's a lot of wastewater," said Costa.
Related Stories