Thorne Art Gallery Exhibits Work Created by Eighteen Art Faculty Members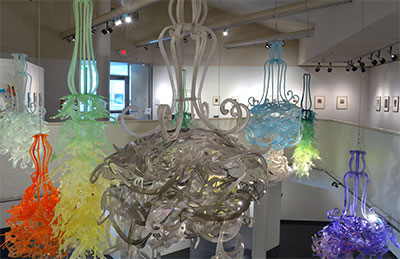 Public Invited to Attend Free Opening Reception and Programs
Keene State College's Thorne-Sagendorph Art Gallery will present the works of eighteen full-time and adjunct Keene State College Art Department faculty members. The exhibit will include painting, digital printing, video, drawing, photography, installation, audio, printmaking, collage, and conceptual works that reveal the wide-ranging interests and approaches of the College's studio art and graphic design faculty. A public opening reception will be held on Thursday, January 21 from 5 – 8 p.m. at the Gallery. The exhibition will be open from January 22 through March 27, 2016. In addition to the exhibit, talks by the artists will be held on January 30, February 10, February 18, March 7 and March 24. All events are free and open to the public.
"We are very pleased to offer the work and perspectives of our incredibly talented artists and professors to our campus community and the broader public," said Thorne-Sagendorph Art Gallery Director, Brian Wallace. "The Thorne is a community resource that brings us all together to learn from each other and expand our horizons. This faculty exhibition will do just that. I hope to see many from our Keene community, and beyond, participate in these innovative programs."
A full schedule of free, public events for the 2016 Art Faculty Biennial Exhibition, including presentations and discussions with the artists, and Gallery hours, are available at http://www.keene.edu/tsag/.
Gallery hours: Contact the Thorne for special Spring Break hours during the week of March 12.
Related Stories