Henning receives APHA International Health Mid-Career Award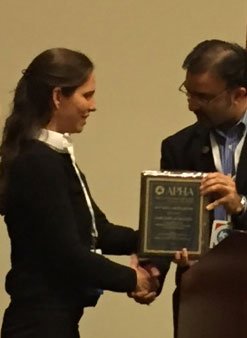 An associate professor in Keene State College's Heath Science program, Meg Henning has devoted her academic career to addressing inequalities in health and education for women and children nationally and internationally—and her work hasn't gone unnoticed. Henning, who came to Keene State in 2010, was this year's recipient of the American Public Health Association (APHA) International Health Section – International Health Mid-Career Award.
"The award was a big surprise," said Henning, who received the award at the APHA Annual Meeting & Exposition in Chicago. "It's a true honor and nice feeling to know that my work has an impact," she said.
APHA champions the health of all people and all communities. It speaks out for public health issues and is the only organization that influences federal policy, utilizing its 140-plus year perspective that brings together members from all fields of public health.
Originally from Concord, NH, Henning has traveled frequently to Zambia, where she has completed field research, exploring psychological support and education for orphans and vulnerable children. She recently completed a project with the Regional Psychosocial Support Initiative for children affected by poverty, conflict and HIV and AIDS in East and Southern Africa.
"Educational inequalities for women are driving factors in early marriage, pregnancy and relative poverty for women and increasing underdevelopment for entire communities," said Henning. "Access to quality education goes hand-in-hand with the skills and information necessary to translate education into positive life opportunities."
This past summer, Henning traveled to Botswana in southern Africa where she visited the University of Botswana's Public Health department. Keene State has an established relationship with the University and Henning hopes more students will take advantage of the opportunity to work and study internationally.
During the fall semester, Henning taught an experimental course in global health, bringing some of her fieldwork into the classroom as case studies. Henning said she got a very good response from her students. "It's really been exciting," she said. "Sometimes students don't realize that the health of Americans and the health of the people around the world are inextricable linked and health disparities are global threats. These problems transcend national borders and have an impact on the political and global economy."
In collaboration with the University of Zambia, Henning's next project will focus on community health assistants in Zambia, especially in relation to their role in providing material and child health services.
Related Stories