Lucky To Be Alive and Swimming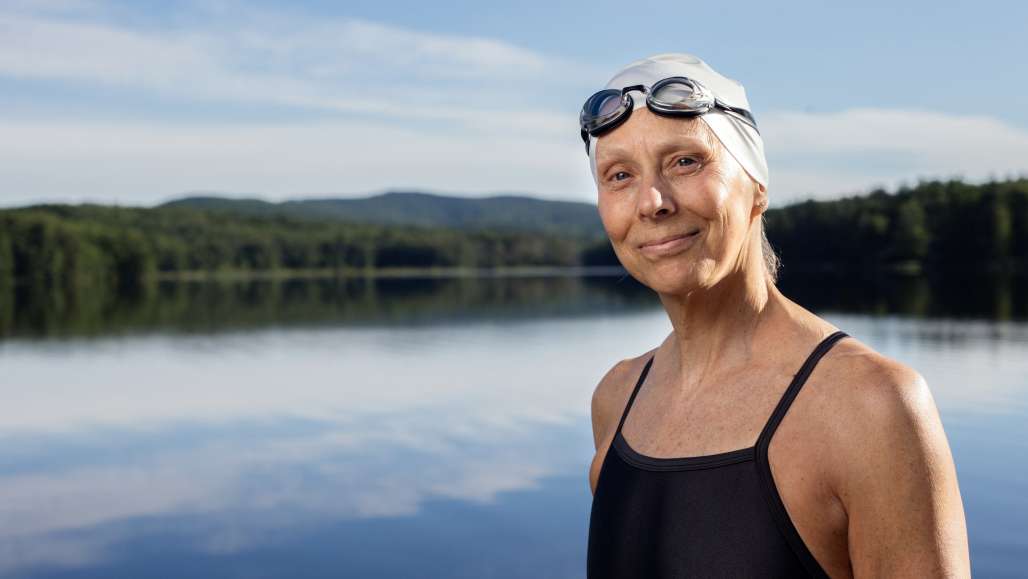 "I consider it an art form. When you're swimming very well it's very much like a dance, feeling your body move through the water. There's nothing quite like it."
If anyone at Keene State College can describe the fluid motion of swimming, it's Joel Feldmann.
A swimmer almost her entire life, the long-time member of Keene State's Physical Education Department and current clinical faculty instructor knows first-hand the positive benefits that can be derived from daily dips in the water – whether that means taking a leisurely swim around Silver Lake in Harrisville or churning out laps during a Masters Swimming practice at Spaulding Gym pool.
In addition to being kind to knees, shoulders, ankles, and hips by putting less stress on the body than other forms of exercise, swimming can improve one's mental health. "Water is therapeutic. I get out of the water and I feel good," says Feldmann. "When I don't swim I'm not as effective in all the other things I do."
Swimming also helped Feldmann face the biggest battle of her life. Diagnosed with ovarian cancer in the fall of 2009, she continued swimming while enduring several surgeries and multiple chemo treatments. "Both of my physicians felt that exercise would increase my chance of surviving and encouraged me to keep exercising," says Feldmann. "I feel lucky to be alive. Cancer has changed my approach to swimming. When I race now, there is no pressure. My internal voice says, 'Let's see what I can do today.'"
Feldmann grew up in Wilmington, Delaware, and later moved to Annapolis, where the Severn River served as her water playground. Depending on the season, she could be found swimming, crabbing, boating, water skiing, and oystering. "That really clinched my love of the water," she says. An All-American swimmer at both West Chester University and the University of Colorado, where she earned her BS in physical education, Feldmann made many water stops during her career. Moving from the blocks to the deck, she held several coaching and teaching positions before coming to Keene State in 1991. Although she enjoyed her many coaching stints, Feldmann, who also earned an MEd from Wayne State in Detroit, got a lot of personal satisfaction from teaching children how to swim.
After an extended respite from the water, Feldmann, at almost 40 years old, was coaxed back into competitive swimming by a friend. Soon both were training for the nationals of US Masters Swimming – an organization for competitive swimmers over 18. "She said, 'I think we can do it,' and we went after it," Feldmann says.
Winning the 50 free in her age group at the national meet in 1995, Feldmann began to enjoy, again, the competitive and fitness training aspects of swimming. Competing for the New England Masters Swimming club, she would not only go on to set world and national records, but post an incredible 170 top-10 swims over 21 years.
However, as far as Feldmann is concerned, swimming with a Masters group isn't just about records and honors – it's also a way to connect with others. "My swimming friends have been sustaining and wonderful," she says.
A self-described "pool rat," she has no intentions of stopping. "I see myself involved with Masters Swimming as long as I can do it," says Feldmann. "When you go to nationals and you see someone who's in their 90s swimming, it's really inspiring. You say, 'OK, I can do this. I can keep going.'"
Related Stories