Senior Combines Art and Business to Fuel His Future Music Career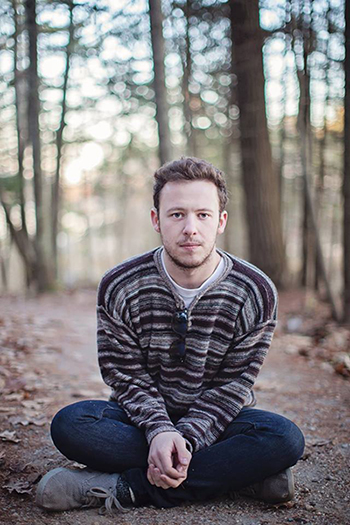 Roger Weeks, Keene State College student and musician from Candia, NH, has big plans for a career in music. Keene State's Management program has helped him to take steps to accomplish his goals. Weeks has generated fans on campus, landed recording sessions with producers in Nashville, and created an EP titled "Up Down" that reached the top 20 on singer/songwriter iTunes chart.
The Management program at Keene State has been a tool for Weeks's music career. He credits his major as being instrumental in his understanding of the hardest parts of music: the business. "My major has taught me how to make music a career," Weeks said. "My classes helped me understand all aspects of business—how to be professional, how to weigh risks and rewards, how to understand investment, and how the time and energy you put into your career is considered an investment in your own success."
Weeks is grateful that his professors at Keene State have been open to him exploring the music industry in his classes. "My studies are more individualized because of my passion for music. My professors have been really helpful with creating my course work. I'm writing a paper right now about streaming and artist compensation, which is a really important topic right now in the industry."
Weeks's experiences at Keene State have been a big inspiration in his music. "Keene State has inspired every aspect of my music. Being here gave me the courage to take my passion for music seriously. My experiences in and out of the classroom, our campus, the Monadnock region, and the students of Keene State all inspire my sound, lyrics, and song concepts. That's the reason I decided to come back to Keene from Nashville, because I felt my music created a life of its own here." He has even involved students from Keene in creating music videos and writing songs with him.
As for the future, Weeks does not know what is in store for him after graduation, but he knows one thing, "I just know that I am going to focus completely on music and songwriting, and see where the thing I am most passionate about takes me. Even if I don't find success writing music, the business side of music is something I now can pursue with my degree."
Weeks's EP titled Up Down is available on iTunes.
Related Stories