Hilary Hartford '07: on the Front Lines of Mental Health Counseling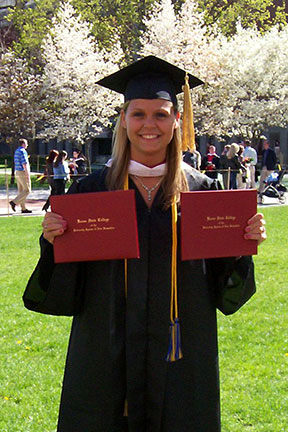 According to the National Alliance on Mental Illness (NAMI), nearly one in five adults in the United States will experience one type of mental illness, and eight million of those will suffer from co-occurring mental health and addiction disorders. Keene State College graduate Hilary Hartford '07 is one of the many mental health and chemical dependency professionals working to diagnose and treat those who are suffering; and her passion for helping began at Keene State.
Currently Hartford is working for the North Carolina Department of Public Safety Division of Adult and Juvenile Mental Health Services as a social work supervisor and Americans with Disabilities Act coordinator, but when she came to KSC, she wasn't sure just which career path was for her.
"I transferred from a community college into Keene State," said Hartford. "I had tried studying dental hygiene and didn¹t really care for that field. When I transferred in, I decided to become a psychology major. When I found out that Keene State had an associate's degree in substance abuse, I decided I would tack that on as well."
Hartford always had the goal of helping people but was unsure of exactly how she could do that while still doing the things she enjoyed, including talking to people and hearing their stories.
"When I got into psychology, it kind of tied it all together. It was talking to people; it was also learning about the developmental stages and substance abuse and all the things that made up my major," she explained.
Hartford really appreciated the way the psychology and substance abuse programs were structured, specifically their emphasis on actively solving problems, rather than just memorizing and regurgitating facts on a test.
"Almost all of the classes that I took on substance abuse were based on case studies—basically looking at what's going on with a person, what's causing their problem, what's their bio-psycho-social history, and how can they be treated," she said. "I loved that about the program."
After graduating from Keene State, Hartford started working at the Adolescent Treatment Initiative in Laconia, NH, and following a few career steps, became the director at SouthLight Healthcare's residential program for pregnant women and women with mental health and substance abuse issues while also earning her master's in community mental health and substance abuse counseling. And always, Hartford said she has held on to the lessons she learned at Keene State as well as the relationships she built here.
"When I was at Keene State, I did an independent study on dual diagnoses, which is what is called co-occurring disorders." So I met with Professor of Health Science Margaret Smith one-on-one. That was wonderful because it prepared me for what it's like in the "real world," because you'll almost never come across a case of substance abuse without accompanying mental health problems, she said.
There are far more adults out there with mental illness than there are professionals who can treat them, which shows Hartford the value in a having a degree in psychology as well as an understanding of chemical dependency.
"Every professional in the community mental health or substance abuse field finds that they have an enormous caseload," Hartford explained. "And you're only one person, and there's not enough time in the week to accomplish it all. It's been remarkably helpful for me to have my combined degrees in psychology and chemical dependency."
Related Stories