Keene State Alum Mentors Athletic Training Students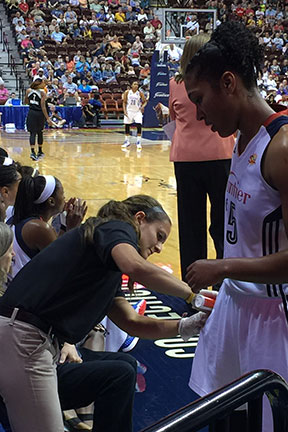 As part of a student athletic training internship program, Keene State students attend all home games and practices of the Connecticut Sun, a team in the Women's National Basketball Association. Keene State's connection to the Connecticut Sun team is making an impact on current Keene State students through Scot Ward, a 1990 Keene State grad and clinical coordinator in the College's Athletic Training Program, and Jeremy Norman, a 1992 Keene State alum who has served as the Sun's Head Athletic Trainer for the past nine years.
"I want to provide Keene State student trainers with an opportunity to learn and work in a professional setting and make connections that could lead to potential jobs down the road. You can never give enough back to the place that helped develop you," said Norman, a Ledyard, CT, native.
"Jeremy has a lot of respect for what we do in our athletic training program and as a proud alumnus is willing to help us out," added Ward.
Madison Macaruso, a 2014 Keene State alum who is now working as an assistant athletic trainer at the Community College of Rhode Island, followed by Makayla Clarke, a 2015 Keene State grad, who recently began a job as a physical therapy aide with South County Orthopedic Specialists in Rhode Island were a couple of the first students to take part. Kelsey Cognetta, a senior athletic training major from Stanford, CT is taking advantage of the internship this summer.
"I can't tell you how happy I was when I learned I got the internship," said Cognetta. "It's a great opportunity."
"I think the world of Kelsey," said Bob Merrow, Keene State Head Athletic Trainer. "I think she has tremendous potential. Scot thought the internship would be a good fit for her, and her internship is being incorporated into her academic curriculum."
"We're very proud of our alumni connections," said Ward. "When people have good experiences at Keene State we try to nurture those relationships and provide learning opportunities for our current students. "Students benefit from the experiences and the alums take pride in giving back to the College."
Related Stories