Bartlett To Compete at NCAA Championships Beginning March 18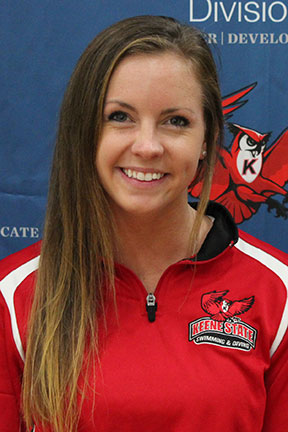 Regardless of the sport, parents – whether soccer moms or hockey dads – don't like to see their sons or daughters suffer the disappointment of not fulfilling an athletic goal they had worked so hard to accomplish during the season. After watching her daughter come up just short of qualifying for the NCAA Division III Swim Championships last year, Stephanie Bartlett tried to soothe the setback by taking the young athlete, Keene State College junior swimmer Alison Bartlett, on a spring week trip to Cancún.
There'll be no trip to Cancún for the Bartletts this year. Instead, Stephanie Bartlett and her son Colin Brown will be spending spring week (March 18-21) in Shenandoah, Texas, watching Alison compete in the NCAA Championships. Tears of disappointment have been replaced with tears of joy. "It's awesome. I'm so excited," said Alison Bartlett, the first Keene State women's swimmer to qualify for the national meet since Jillian Whitaker in 2012. "I don't mind giving up my spring break. This is a trip I've been thinking about all season. I wouldn't trade it for anything."
Recently named the Little East Conference swimmer of the year for the second straight season, Bartlett has every reason to be happy. The nursing major from Exeter, N.H., had a phenomenal season in the pool for the Owls, posting several impressive dual meet performances and hitting an NCAA B cut 50-yard free qualifying time of 23.61 at the MIT Invitational. Improving as the season progressed, Bartlett blistered the competition at the New England Intercollegiate Swimming and Diving (NEISDA) Championships. She not only won individual titles in the 50 (23.68) and the 100 free (51.83) and the 50 butterfly (26.20), but she helped the Owls capture four relay titles, helping Keene State capture its third consecutive NEISDA Championship.
"I told Coach (Jack) Fabian this is the year I'm going to Texas," said Bartlett. "I thought about it every time I raced and every time I practiced. I'm doing this for March and it's finally here."
Bartlett didn't get here without a lot of hard work. Once reluctant to commit to a sport where practice makes perfect, Bartlett, a walk-on member of the Keene State swim team as a freshman, rediscovered a passion for the pool in college, dedicating the time and energy to reach her potential.
Shying away from contact sports growing up, Bartlett took to the water at an early age, taking lessons at Phillips Exeter Academy and being invited to join the Exeter Swim Club team. Although she enjoyed the competition during the meets, practice was a different story. "Once the sessions were over in March, I had to bribe her to get back in the water in September," said Stephanie Bartlett. "It was hard for her because she didn't have a lot of friends that swam, but I saw her potential in the sport."
In time, so did Keene State Coach Jack Fabian. A four-year swimmer and senior team captain for the Exeter High Blue Hawks, Bartlett was initially hesitant to join the Keene State team. That all changed when she arrived on campus. "Once I got to school, I started to think about it," she said. "I just missed swimming and knew I'd regret it if I didn't do it."
Actually, Bartlett wasn't the only one hesitating to make the plunge. She had been in touch with Fabian over the summer, sending him her top times in several freestyle events. Fabian was initially unimpressed. "I told her that her times didn't quite measure up and we were well stocked in freestyle," he said. "But I encouraged her to come out for pre-season practice."
At first, Bartlett decided not to take Fabian up on his invitation. However, a talk with a couple of persuasive members of the Keene State men's team, who happened to live on her dorm floor, reinforced her resolution to return to the pool.
For Barrett, the thought of joining a then-nationally ranked team that featured so many talented swimmers was very intimidating. "It was the scariest day of my life when I went and talked to the coach," Bartlett admitted. "But the team was really welcoming, and Jack was so nice. He and the team made me feel so comfortable right from the start."
"I was very impressed that she had the courage to go see the coach and not only join the team, but demonstrate the discipline to stay with it," said Stephanie Bartlett, who has become her daughter's biggest fan, rarely missing a meet.
Getting her feet wet, Bartlett enjoyed the intense but effective workouts that were geared to her specific event. She saw immediate results. "I dropped my time a ton at our first meet at WPI," said Bartlett. "I did a double-take when I looked at the board. I couldn't believe my time."
A month later, Bartlett surprised herself again by winning the 50-yard freestyle and being a member of the Owls' victorious 200 free and medley relay teams at the Little East Conference championship. "It was an amazing feeling," said Bartlett of her first-place finishes. "There are so many top-notch swimmers on the team, and it's a great feeling to know that I contributed to the championship."
"I was just really happy for her. It made me feel good that we can take somebody into the program and develop them into one of the top swimmers in the Little East," said Fabian. "Most people would've said she can't swim at this level. But we don't just have super talented kids on the team; we work hard to help them develop their talents. There's no better example than Alison."
Bartlett put a bow on her freshman season by winning the 50 and 100 free races at the NEISDA Championship, as well as helping the Owls take home the titles in three relays.
Bartlett had an equally impressive sophomore season. The speedy sprinter saw the results of her increase training regimen starting to pay off in the pool, dominating 50 and 100 free races and multiple relays at both the LEC and NEISDA meets. More importantly, she was also starting to reach the surface nationally, missing the 50 free cut for the NCAA Championships by just two spots.
As if wearing a pair of foggy goggles wiped clean, Bartlett saw her dream of qualifying for the NCAA championships come into focus as she entered her junior season. Ironically, the work to fulfill that dream took place as much on land as in the water. In addition to working as a lifeguard at Hampton Beach last summer, she returned to her old swimming stomping grounds, training at the Exeter Swim Club with former Owl swimmer Chris Woolridge and hitting the gym, training with another former KSC swimmer, Harrison Hollingsworth, who is now a certified trainer at Ironman Fitness in Exeter.
"I never lifted heavy weights before, so it wasn't easy on me – that's for sure," said Bartlett, who stands 5-8 and tips the scale at 135 pounds. "He pushed me to my limits. The first time I went I couldn't even walk afterwards. I was so sore."
Both Hollingsworth and Woolridge praised Bartlett for her work over the summer. "Alison was more dedicated and motivated toward the lifting than I've ever seen," said Hollingsworth. "She developed really good habits on top of the ones she already had at Keene State."
"On the pool side, it's been awesome to have her around. Alison is a real New Hampshire success story," said Woolridge, a 2004 KSC grad and a former Owl captain and assistant coach. "She is intrinsically motivated and I love it when she comes back and works with us."
Reaching high-water marks in all her events and closing in on several KSC sprint records, Bartlett earned her 50 free qualifying time of 23.39 (11th in a field of 17 swimmers) during a time trial on the final day of the NEISDA meet.
Currently fine-tuning her race for the nationals, Bartlett, who will also swim the 100 and 200 free events at the NCAAs, is realistic about her chances to return home from Texas with All-America honors. "It would mean everything to earn All-America," said Bartlett. "I know I have potential to do it. It's just a matter of trusting my training and trusting Jack and giving it everything I have during the race."
Fabian knows that Bartlett must have a strong swim in the morning trials if she hopes to place in the top eight and return to the pool at night. "You can't go slow in the morning and come back at night. It just doesn't happen," said Fabian, who called the finals a real mental and physical challenge. "You have eight real fast swimmers exploding out of the blocks. It creates a tidal wave when it slams into the wall. You come off the turn and get hit by it and it immediately slows you down unless you can break away."
"You really can't describe it," said Bartlett about the two-lap race that goes by in a blink of the eye. "It's all adrenaline. You don't know what the other swimmers are doing. I breathe just one time, so my head is down. "I'm looking straight ahead and trying to swim as a fast as I can."
While her mother and brother will be in the stands cheering her on, Bartlett will have plenty of support back home from all her teammates, including roommate Olivia Gallugi. Gallugi, who has known Bartlett since the day she walked on the team, says Alison is not only a great swimmer but a humble teammate. "I knew Ali was going to do it. She deserves it," said Gallugi, a junior from Reading, Mass. "If you saw her outside of the pool you would not know how good of a swimmer she is. She's not cocky and that's why everyone is so happy for her."
Related Stories