Sean Knox, Manning the Desk for Sen. Ayotte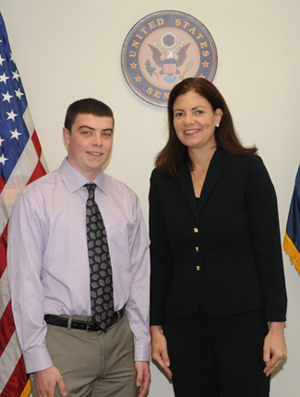 Sean Knox came to Keene State with what he admits was a pretty narrow interest in history. But one of the great things about a liberal arts college such as this one is that it encourages you to explore new paths. "I started as a history major. But I took classes in American studies and political science, and it opened my eyes to so many other things," he said.
Responding to that experience, he switched his major to American studies with a political science minor, and his interest in politics landed him an internship in Senator Kelly Ayotte's Manchester office last summer.
"I really enjoyed the work and the people in the office," Knox said. "I perused and clipped local news stories that would be relevant to the Senator, or that mentioned her name. Then we'd send them down to Washington, DC, for the press team there to evaluate. We also researched particular legislative topics. Mine was the fishing industry and the restrictions that Federal organizations were placing on it. I had to look back at three or four years of news stories to see how the information had been reported to NH citizens and then write a report based on what I'd discovered."
Just before last winter break, Knox contacted Sen Ayotte's office to see if they could use his help again. They must have really liked the work he did over the summer, because they offered him a position as a staff assistant. "Due to my class schedule, I only need two upper-level classes to graduate, and I can take them on the same day, which allows me to work part time now. After I graduate this spring, I go full time."
Knox mans the desk at Sen. Ayotte's Manchester office. When you phone with an opinion or a request for the senator, he takes the call and logs it in to the system. He also handles the correspondence between Ayotte's state offices and the DC office. If the Senator writes thank-you notes or signs photos, Knox makes sure they are sent to the intended people. He also orders supplies for all the offices.
What a great situation for a dedicated student who wants to get involved in the political process. "There are plenty of chances to move up in the organization," Knox said. "I really appreciate this opportunity—it is a first step in what I hope to be a long career. I know this experience looks very good on my resumé."
— Mark Reynolds
Related Stories