John Cowdery '82 Opening Opportunities to KSC Grads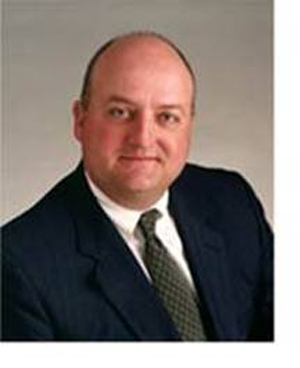 When an alum who graduated more than 30 years ago comes back to campus to share his formula for success and offer career opportunities to current students, it's a very good thing. Last semester, John Cowdery '82 returned to Keene as part of Corporate Relations Officer Daniel Henderson's Business Speaker Series.
Cowdery, who started his career track as a health education major at KSC, is now senior VP and environmental sector director for TRC, a national engineering services, consulting, and construction management firm that provides integrated services to the energy, environmental, and infrastructure markets. While he was here, he met with several faculty members, including Associate Professor of Environmental Studies Nora Traviss and Professor of Safety and Occupational Health Applied Science Larry MacDonald, since TRC is especially interested in hiring people with skills in the sciences. One of the company's plans is to double its size, from its current 3,000 employees to 6,000, so there's great opportunity at TRC for the right grads, and Cowdery wanted to make connections that would benefit his company and talented Keene State students.
"The campus has really gone through quite a renaissance since I attended," Cowdery explained. "I was very impressed with the research and the programs that Dr. Traviss is providing. KSC didn't have an environmental studies program when I attended. The program is very applicable to the type of work I am involved in. Dr. McDonald's Safety Studies program is also quite impressive. The facilities are state of the art and provide great preparation for safety professionals, of which TRC employs many. I also met with faculty from the biology and geology departments. Keene has truly evolved into a very different place than it was back in my day. While I also felt very old walking the campus, I was amazed at all the changes and came away very proud to be an alumni. I also hope to set up an internship program between TRC and KSC in the academic departments I met. Also, our Human Resource department is developing a program for recruiting with KSC. Smart, passionate people who write well and have a science background are the kinds of candidates we are looking for."
Sound exciting? If you think TRC might be a good fit for you, check out its web page, Start Your Career at TRC.
— Mark Reynolds
Related Stories