Ryan Hart selected to represent NH at SHAPE America Convention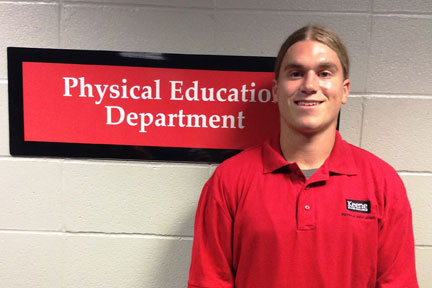 Keene State College's Ryan Hart was one of two students selected to represent New Hampshire in the Outstanding Future Professional Program at the 2015 Eastern District Society of Health and Physical Educators (SHAPE America) Convention that will be held February 5–7 in Springfield, MA.
Hart, a senior physical education major from Richmond, NH, was selected for the honor, along with Denver Greene from the University of New Hampshire.
The Outstanding Future Professional Award reflects the Eastern District's commitment to its future leaders in the physical education, recreation, and dance fields. Students earned the honor based on their grade-point averages, academic achievement, participation in SHAPE and college organizations, and contributions to their major departments and communities, as well as professional potential/leadership qualities and individual accomplishments/honors/awards.
Set to begin his fourth season as a high-scoring and All-Conference midfielder on the Keene State lacrosse team this spring, Hart has also excelled off the field as a stellar student in the classroom. A finalist for the New Hampshire Rising Star College Student of the Year award earlier this year, Hart hopes to use his athletic prowess and communication style to become a physical education instructor. Last fall, he did his student teaching with KSC alumnus Tod Silegy '76 at South Meadow School, a middle school in Peterborough, and later joined Johnna (Dow) Kress, a 1998 Keene State grad, at the Fuller School in Keene.
Ashlee Moussette '14 was also nominated for the Outstanding Future Professional Award by Keene State. A native of Holyoke, MA, Moussette graduated on December 8 with a degree in physical education.
This fall, Moussette, who played two seasons on the KSC basketball team, did her student teaching at the Academy School in Brattleboro, VT, and Pioneer Valley Regional High School in Northfield, MA. She is looking forward to working as a physical education teacher in New England and making an impact on student's lives.
The three-day convention in Springfield will include sessions ranging from "No Pencils in MY Gym" to "Red Cross Club" and the announcement of state, district, and national Teachers of the Year. Additional highlights include a full-day session demonstrating the essentials needed to participate in the national Presidential Youth Fitness Program and the Opening General Session featuring keynote speaker Shannon Miller, recipient of a 1996 Olympic gold medal.
Related Stories