Mitchell Reynolds: Working His Way into the Snowboard Industry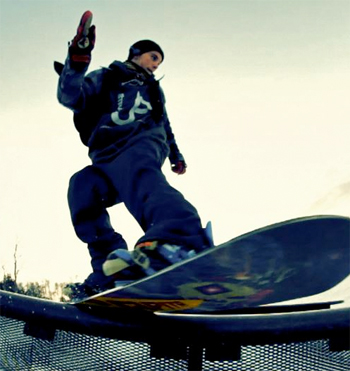 Junior and Management major Mitchell Reynolds came to Keene State to prepare himself for his dream of working in the snow/skateboard industry, and he's already a long way down that road. He's the new tech rep for Adidas, and last winter he landed a paid internship as the Events Coordinator at Crotched Mountain Ski & Ride in Bennington, NH.
"It's all about getting out there and networking," Reynolds said. "You just get out there and have fun and get involved, and meet people in the industry. If you're motivated and willing to work, they'll notice and offer you opportunities. I do a lot of volunteer work at the Antrim (NH) skatepark, where I worked with Tim Smith, previous head of outdoor operations at Crotched. He saw that, from the experience I had from running the competitions in years past, I had a decent handle on running events like this, so he recommended me to help out with events at the mountain. That was great marketing experience."
Through the competition he puts on each summer at the Antrim skatepark, Reynolds made connections with people at Eastern Boarder, a snow, skate, and BMX shop in Nashua. The store sponsors the competition and sends members of its skateboard team to Antrim to show their stuff. This past year, he has been going over and interning at the shop for free, just to make more connections in the industry. The management was so impressed with his dedication and knowledge that they offered him a job.
Begin pull-quote…

You just get out there and have fun and get involved, and meet people in the industry. If you're motivated and willing to work, they'll notice and offer you opportunities.

…end pull-quote
In fact, he made such an impression that when Matt Bagley, the northeast product rep for Adidas, called the shop and asked if they knew anyone who could help him out with the company's snowboard boot line for the winter, the guys at Eastern Boarder said, "Yeah, we have an intern here who's looking for that kind of work."
It's a near-perfect opportunity along his career path. As a tech rep, Reynolds travels to local snow- and skateboard shops to explain the technical aspects of the Adidas products the shops carry, which he can do and still be a full-time student. And he'll spend the occasional weekend traveling to industry trade shows. (The next one is in Atlantic City.)
"Prof. Bob Simoneau's class in Quantitative Decision Making was helpful in teaching me how to focus on the aspects I needed for this job, such as the different quarters that a market works on," Reynolds said. "And, my Public Speaking course really helped me with the presentations I have to give to the guys in the shops I visit."
Related Stories