From Portsmouth to Havana with José Lezcano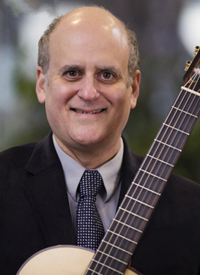 November was a busy month for Professor of Music José Lezcano. On the ninth, he was invited to perform as soloist with the Portsmouth (NH) Symphony in the beautiful and challenging Concierto de Aranjuez by Joaquin Rodrigo, for solo guitar and orchestra. "I'm happy to report the performance went very well, and we received a standing ovation from the large Music Hall audience at the conclusion of the concerto," Dr. Lezcano said.
Then he traveled to Havana, Cuba, for the International Festival of Contemporary Music (Nov. 15–22), where he heard the Cuban premiere of his composition "Poemas Concertantes," a three-movement concertino for solo guitar, solo flute, and string orchestra, performed by soloists Galy Martin, guitar (Cuba); Antipe di Stella, flute (Switzerland); and the Music Eterna Chamber Orchestra, conducted by Maestro Guido Gavilan. "They did a fantastic job, and I also attended most of the concerts that week, which were at a consistently high level and included composers and performers from the US, Mexico, Puerto Rico, Argentina, Colombia, and other nations," Dr. Lezcano explained, "and I got to ride in a 1951 Buick taxi!"
Here's the video of Dr. Lezcano's concert in Portsmouth:
Related Stories