Dietetic Interns Helping Community To Make Healthy Food Choices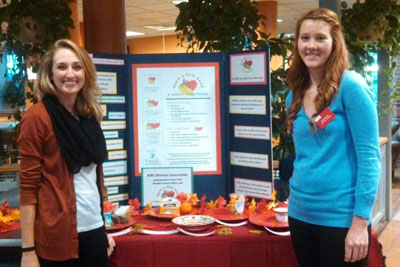 Like most Americans, people in Keene and the Monadnock region love eating out – and there's no reason why it can't be healthy eating. But you can't always find out the amount of calories, fat, or salt in a restaurant or work cafeteria menu. Keene State's dietetic interns are trying to solve the problem.
In conjunction with Heathy Monadnock 2020, a community engagement initiative designed to foster and sustain a positive culture of health throughout Cheshire County and the Monadnock region, the interns are taking part in Cheshire County Healthy Eating Active Living (HEAL). In 2011, HEAL, the implementation partner in the community, launched the state's first county-wide healthy dining initiative, called Turn a New Leaf, which helps people identify healthier options in restaurants and cafeterias.
The Keene State dietetic interns analyze recipes based on nutrition criteria to help identify healthier menu items, make suggestions to help chefs meet the criteria, and establish a standard among restaurants participating in the initiative. The criteria, formulated with US Department of Agriculture dietary guidelines in mind, addresses calories, saturated fat, trans fat, salt, fruits and vegetables, and whole grains in foods.
Healthy menu items are marked with a logo featuring a green elm leaf and a red heart. The elm leaf is a reference to Keene being the Elm City and the red heart signifies the healthy content of the food. One heart denotes healthy, two hearts means healthier, and three hearts is for heathiest.
"Turn a New Leaf really does help diners make better choices, because it's simple. There are no complicated numbers to understand – just look for one, two, or three hearts", says Dr. Rudy Fedrizzi, director of community health clinical integration at the Cheshire Medical Center in Keene, who is also helping with the initiative. "Research shows that when restaurant patrons learn which menu items are healthier, they are more apt to choose them."
"For the most part, I'm impressed with what restaurants and cafeterias in the area are providing," said Julia Whelan of Palm Beach, FL, one of 16 interns in KSC's Dietetic Internship, a post-baccalaureate program that attracts students from around the country. "But we do have some input, so we tell them if you tweak this a little, you can add a heart. Some are looking to completely revamp their menu and some have already started the process."
"They are very accepting of our suggestions," added Cassandra Reynolds, an intern from Marietta, Ohio. "We're not trying to sacrifice the quality of the food or the taste of it – we're just trying to make it a little bit healthier for the community members."
Linda Rubin, director of the Healthy Community Initiative–Healthy Monadnock 2020 at Cheshire Medical Center in Keene, said the interns play a critical role in the implementation of Turn a New Leaf. "The organization has just so many staff," she said. "So when we can collaborate with an academic institution like Keene State, where students and professors are looking for educational opportunities and we are looking for ways to build capacity in the community, it's really a win-win for everybody."
"We wouldn't be able to do this work without them," added Maryanne Keating, the Cheshire County HEAL program coordinator. "They collect the data and do the research."
Whelan says the feedback has been very positive. "Everybody is real excited," she said. "The program is branching out so quickly and taking Cheshire County by storm."
Keating reports that 14 restaurants and food venues in the community are using the program, as are four New Hampshire hospitals. The interns recently completed work in the staff cafeteria at the Maplewood Nursing Home in Westmoreland and will be analyzing the menus in staff cafeterias at the Cheshire Medical Center and Markem-Imaje, a Keene corporation, in the future.
Dietetic Internships are required of college graduates with nutrition degrees who are working toward certification as Registered Dietitians. The internships run from nine months to a year and include classroom work as well as supervised practicums in which interns are sent out to work with dieticians and other health professionals in all areas of practice.
Every dietetic internship program has an emphasis area; Keene State's program centers on community nutrition, education, and wellness. "The internship gives the students an opportunity to go out and apply their skills and build their knowledge," said Karen Balnis, director of Keene State's Dietetic Internship. "The hands-on experience is invaluable."
In addition to their work with Turn a New Leaf, the interns are involved with many other Monadnock 2020 initiatives, including working in local schools and researching issues like obesity, physical activity, and food distribution in cafeterias. Several interns have put together nutrition booklets that will be distributed around the community.
Keene State has been aligned with Healthy Monadnock from its inception, promoting numerous programs, including Early Sprouts, a seed-to-table gardening and nutrition curriculum for kids and their parents, as well as the 5-2-1-0 program that was started by KSC physical education interns at a local elementary school to encourage youngsters to have five servings of fruits and vegetables daily, less than two hours of sedentary/screen time activities per day, one hour or more of physical activity a day, and zero sugar-sweetened beverages each day.
"I absolutely love the Heathy Monadnock program," said Reynolds. "I think it's such an ambitious goal and I'm so happy that I'm a part of it. I feel very fortunate to go out in the community and help to make changes in people's eating habits."
"It's an amazing feeling to know you're making an impact," said Whelan. "Yes, we are working behind the scenes, but we can go out in the community and say we're doing some great things to help people. That's really cool."
Whelan says she practices what she preaches. What does she do when she goes out to a local restaurant? "I order the three hearts," she said.
Related Stories