William Pearson '14 Becomes One of Youngest Reps in NH House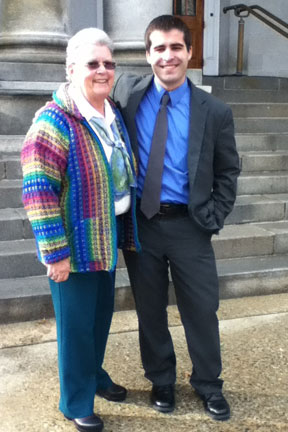 Running for public office is probably one of the last things on the minds of most recent college graduates. But that's not the case for William Pearson '14. Just one year removed from completing his degree in political science at Keene State College, he is going from the classroom to the House – the New Hampshire State House in Concord – where he will have the distinction of being one of the youngest members of the state's House of Representatives when it reconvenes on January 7.
Pearson, who recently won his Ward 1 seat in Keene by a vote of 580-242 over David Crawford, hopes the youth movement in the legislature will continue. "I wish there was active youth participation in the House," he said. "There is definitely an opportunity to do it in the state." Pearson joins a large local contingent with ties to Keene State in the 400-member House. Although Chuck Weed, a longtime KSC political science professor, relinquished the seat he's held since 2001 to become a county commissioner, Cynthia Chase, an adjunct instructor in the Education Department, and Gladys Johnsen, who retired in 2008 after teaching 15 years in the Music Department, along with Kris Roberts, a 2003 KSC grad, won re-election and will serve as enthusiastic mentors for Pearson.
"We're going to take him under our wing and help him as much as he wants us to," said Johnsen, who is set to begin her third term representing Ward 4 in Keene.
The timing to run proved to be perfect for Pearson. Weed's desire to seek the county commissioner job opened up a vacancy in Ward 1. "We try to keep our eye out for possible replacements, so I inquired with my former Keene State colleagues if they knew of any recent grads from KSC that might be interested in politics. They sent me a list and William's name was on it," Weed said.
Pearson later met Weed at a democracy conference in town, learning about the local political landscape and the opening. After taking some time to think it over, Pearson decided to throw his hat in the ring. "I decided to jump on it and see if I could work it out, and here I am," he said. 'It worked out better than I could ever imagine."
Born in San Diego and raised in Bedford, Pearson never imagined that politics was in his future. While he took several civic and history classes and showed leadership skills as a three-season athlete while a member of the first graduating class from Bedford High, he didn't get the political itch until he arrived at Keene State.
"Once I started taking political science classes I couldn't stop, because the professors were great," said Pearson, who credits professors Wes Martin and his advisor, Michael Welsh, for whetting his political appetite. "It was easy in their classes to formulate opinions and take stances on issues that you could develop on your own," he said.
Welsh, who described Pearson as "attentive and an excellent barometer of what was happening in the class," was surprised and pleased that his one-time student decided to run for the office. "It strikes me as a thing that suits him just fine and compliments the work he is doing," said Welsh. "This is the kind of thing we want our political scientists to take seriously. We want our KSC students to see that it's something that is possible and available to them."
Starting a campaign, especially for a political neophyte with little name recognition, isn't easy. "I was knocking on doors pretty much for the past two or three months every weekend and every free minute," he said. "I think people are tired of seeing my face showing up on their doorstep." Pearson not only got help from veteran party members and workers, but also from Kay Montplaisir, a senior at KSC who took the semester off to work on the mid-term election and serve as the campus organizer for the Democratic party.
Pearson said he stuck to many of the party's traditional campaign-platform talking points on the stump, including the raising of the minimum wage, equal work–equal pay, and more state funding for higher education. "That was very relevant to me," said Pearson. "I was at KSC when the William O'Brien (then house speaker) legislature cut funding for higher education. That obviously affected me and my friends. So I'm all about maintaining the funding we have or increasing it if I can."
Pearson couldn't have been happier with the positive response he got from the voters in his ward. "I was up against a Free State candidate and I'm relieved that many of my constituents weren't fans of the Free State movement. That helped me out a lot," he said. "But more than that, a lot of them were excited to see a fresh face in the race."
"Concord doesn't have enough young people holding and running for office," said Welsh. "I don't think there is enough of that perspective on issues being talked about and advocated up there. I think he'll be able to be a voice."
Related Stories